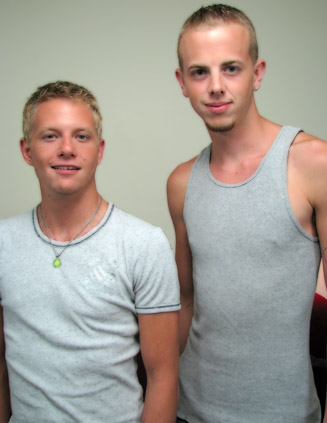 Welcoming back to the studio Preston and Mike, I had to see if they would take things to the next level between them. Of course, I held back from giving too much information to get them through the door first. Right away, I brought up the fact that Mike lost his title of who shoots the furthest to Preston, but Mike seemed to think that he should still keep it from all the other shoots that he has done. That's when I popped the request to see the two of them do oral together. Mike seemed a little cocky with his attitude. He challenged Preston to the oral, which was great. Preston stepped up and said that he thought he could do it for the money that I was offering. I had them take off their shirts and I told them to take it easy where they threw their clothes. The two of them joked around about getting cum on the walls and floor. Next, to go were their pants, and as they stripped down, I asked Mike if he happened to get any more tattoos since the last time I saw him. He pointed out the couple of new ones on his back legs that he had just got.

Taking a seat back on the couch, the guys were sitting in their boxers and I told them that they should know the routine by now. I would put on some porn for them to watch as they stroked their cocks to get hard. When I asked what kind of porn they wanted to see, they said that they wanted to go with some bi porn this time. Making some small chat as they played with themselves, we talked about the studio and then I told them to take off their underwear when they were ready. Mike didn't waste any time before he took his off and Preston followed along. Preston asked to use some lube, but I reminded him that they were going to do oral, and that sucking on a lubed cock was gross. Mike seemed to be pretty hard sitting there playing with his dick, and Preston was still very soft. I noticed that it was Preston who started to watch Mike jerk off first, and then they both were doing it. That's when Preston made the comment about how intimidating it was to do oral for the first time.

Preston had this nervous laugh when he was uncomfortable, but I explained to him that I wanted him to go first to get it over with. He turned to his side, reached forward, grabbed the dick and lowered his mouth down to it. Mike was cruel in that he surprised Preston by pushing his cock deep into Preston's mouth. I wouldn't do that, because his buddy might bite his dick off. Even though it was his first time giving oral, Preston was doing a good job and after I let him try things out I gave him some pointers. Mike seemed to moan more from his friend giving him oral, and I think that the two of them were taking their friendship to a new level. It just made me wonder if they would experiment on their own or not. Mike even started to talk dirty and when they got to a good point I brought up the fact that we had a contest going. I wanted to see Preston get his buddy off with a hand job, and then Mike would do the same to him.

Getting some lube, it just took a moment for Preston to get comfortable squeezing another guy's dick. He was unsure how hard to hold it in his hand, and how fast to move up and down. Mike was good about telling him what he wanted, and so the two of them were going great. At one point Mike told Preston to keep going and that's when he came shooting his load all over his stomach. After that, it was Preston's turn to get off, and Mike reached over and started to stroke his dick. Preston didn't ask for any lube, but only after a minute he started to breath really heavily. He was starting to have an orgasm, and he shot his load all over himself. Mike wouldn't stop stroking his dick and even went faster with Preston's sensitive dick. I told them they both made their money and that they could come back anytime.