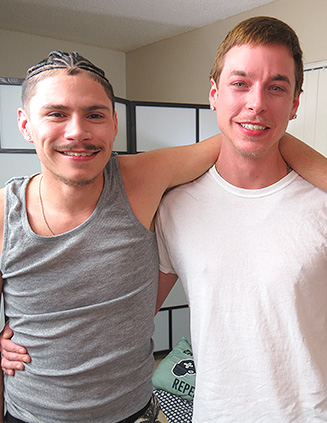 This session must have loosened Chris' tight hole up judging by the way he was taking that dick by the end!
Lying in bed together in their underwear, Chris and Blake kiss passionately for a minute before Blake asks with a bit of nervous excitement if he can see Chris' cock. You can feel the sexual tension as Chris strips off his briefs and Blake wastes no time wrapping his lips around Chris' dick. Chris instantly throws his head back, closing his eyes as he begins to moan softly. Blake has no problem taking the shaft all the way down his throat, before Chris asks to return the favor.
Blake lays back as Chris begins to suck his dick while jerking himself off. Blake's dick grows in his mouth as Chris works his mouth and tongue around the head, spitting on it. Then Chris lays back to expose his smooth hole and Blake starts eating that ass like he loves it. Getting that tight hole ready for Blake's big dick with his fingers.
Chris screams and moans as his hole stretches for that dick and then he gets on top to ride it. Starting off slow and easy, he finally loosens up and takes it deeper. Riding him faster, his screams of pain turn more into moans of pleasure. They make out more while Chris is on top before bending over to take it doggy style. Blake thrusts deep, fucking him hard until he pulls out to bust on Chris' ass, leaving his cum dripping down that tight, smooth hole. They lay back on the bed together while Chris jerks his hard cock until he cums on his stomach.