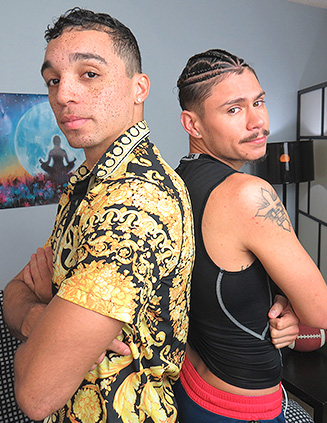 This video wastes no time getting to it, cutting right to Amone sucking Chris' dick. Chris moans as Amone takes him in his mouth, spitting on Chris' cock. Then Amone strips down and they swap positions. Chris sucking off Amone as he jerks himself off. Amone starts gripping Chris' ass, spreading him open before flipping him over. He spits on Chris' smooth hole, using his fingers to get that tight ass ready for his big dick.
Chris is already moaning by the time Amone starts to eat his ass, lubing it with spit before he inserts a finger. Amone slowly penetrates Chris with his big dick, instructing Chris to squeeze his dick with his hass to help him relax. It must have worked because next thing you know Chris is moaning and gripping Amone by the waist to pull him deeper. With Amone's hand around Chris' throat, it seems Chris might be turning into a bottom bitch one video at a time. His usual screams sounding more and more like moans of pleasure as he says he can feel Amone in his stomach.
"Fuck yes" he says as he jerks himself off, laying on his back while Amone thrusts deep and fast inside him. You can see Amone's muscles flexing as he gets close to finishing, both of them moaning loudly in ecstasy. Chris throws his out to the side while Amone screams out that he's going to cum. He pulls out and cums all over Chris' hand as he jerks himself to finish on his stomach.