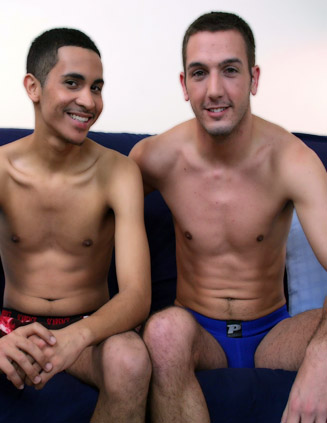 Marlin recently did a couple of shoots with us, and I had him come back to do another one. The day of the shoot he arrived on time, but the other model called and said that he was running late. I started talking to Marlin on camera. He recapped a little about himself for us, he is straight, has a girlfriend, and he looked at getting into this work in order to pay off some fines. We found out that Marlin has a mixed ethnic background, but the good thing is that he has a big cock because of it. Recently, Marlin turned 18 and I told him that the plan was to do anal in the shoot he was here for. His eyebrows raised and I asked if he wanted to give bottoming a shot. He told me no, and that he just wanted to do the fucking. There was a knock at the door and Dylan walked in. Dylan said that he was at the gym and just hit some traffic driving to the studio. He was a little shocked to see Marlin on the couch and that was because he knew Marlin had a huge cock. When I told Dylan that he would be bottoming in the shoot, he wasn't very happy, but to help make things easier I told him I would give him a grand. That seemed to do the trick, and when I asked what he had been spending his money on his response was credit card bills.

Dylan said that he likes to work out every day, and I asked him to take off his shirt to show off his body that he has worked so hard to get. Peeling off his shirt his chest was smooth, still sweaty, and he had a tattoo below his belly button. Dylan munches all the time, doesn't smoke, and likes to wear jockstraps to the gym for support. I had him pull down his shorts for us to see, and sure enough they was a bright blue color one. There was even some lift to Dylan's ass that the jockstrap was giving, and so I had Marlin slap it just to have some fun. Afterward I moved over to Dylan who was wearing a Scarface T-shirt, and matching boxers. He said that he likes to match, and as he stripped his clothes off and got down to his underwear he modeled them for us. The guys were instructed to work on getting hard while I put on a porn for them. I told Marlin to think about bottoming and he could make even more money. The guys sat back and watched the video. It didn't take long for Marlin's huge, monster dick to get hard. I asked him to pull out his dick for us to see. Showing us his dick it was very long and straight in length, and as he stood up I was able to get a closer shot of it.

Since Marlin was hard, I had him help out Dylan by giving him head first. Leaning over he took the dick in his mouth and started to suck. Dylan was surprised to find out that Marlin was good at giving head. He was able to just sit back, relax, and enjoy the blow job, while Marlin was busy with a mouthful. Marlin never complained about giving head, so I let him go for a long time before I asked them to switch. Dylan got down on the floor and he put the monster dick in his mouth. As he got started, it didn't take long for it to get completely hard. Watching Marlin's face he closed his eyes mostly and enjoyed the head. Dylan tried to be a champ and deep-throat the monster cock a couple of times, and since Marlin's balls were shaved I asked for them to be licked too. With it nice and hard, it was time for the fucking to start. I asked the guys to get the couch ready and then to get into position. Marlin put a condom on, and then got onto the bed behind Dylan. Dylan was in the assume position and Marlin just pushed his cock head right in. To my surprise Marlin was able to get most of his cock in without Dylan really saying anything.

The two boys were fucking and Dylan was being topped by a monster cock. With a cock that big it was very clear to see the penetration. Watch these two fuck and the two different positions that they try out was hot. When Dylan turned over onto his back he took a hold of his legs and Marlin just went at the same pace. Then, I told him to get a little rough with it, and Dylan let his legs go to allow Marlin to get very close to him. As they were getting pretty intense with one another Marlin quickly stopped, and pulled out. Once the condom was off, he tossed it to the side, and came right onto Dylan's stomach. Marlin's load shot clear up to Dylan's nipples, and just has he finished having his orgasm. Dylan ended up shooting his load as well onto his stomach. The guys did a great job, and after that they needed to take a shower.