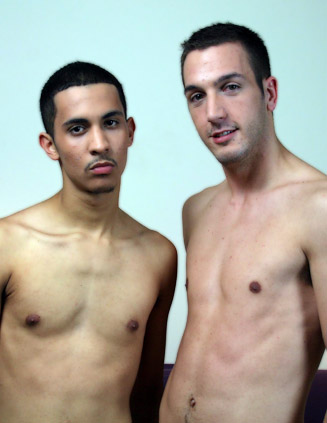 For this Broke Straight Boys shoot, I invited Marlin and Dylan to come back in to do another shoot together. I asked them how much further they would be willing to take things. Dylan spoke up for oral; however, Marlin was the guy that wanted to do as little as possible for as much as possible. I knew that asking for them to do anal was a bit much, especially when Marlin wasn't really Dylan's type. The guys decided that they would do the oral for the money, and when I asked Marlin what he spent his money on, he told me he wanted a new hookah toy. To get the guys moving, I asked them to take off their shirts, and they did so while they remained seated. The next piece of clothing to come off was their pants. They stood up, stripping out of them, and were left in their underwear. I had them turn around. I wanted a quick look at their asses. Both guys had a great set of ass cheeks that could use a good pounding.

The two of them took a seat on the couch as I worked on putting on something for them to watch. I asked Marlin if he would reach over and start to play with Dylan's dick outside his underwear. I couldn't really tell if he was getting hard, but I asked Dylan if he still had his dick piercing in. He said yes, and that's when I told Marlin to pull Dylan's underwear down. He did it, revealing a limp cock that was in some need of sucking. Marlin wasn't overly excited, but he put the cock in his mouth and started giving head. The longer that he seemed to go the bigger Dylan's dick got, making Marlin gag once in a while. I even had to tell Marlin to give Dylan's balls some attention too. The tongue licking seemed to make Dylan moan. I had Dylan stand up in front of Marlin to continue the oral, and he did. Dylan seemed to mess around a little by being a little more powerful with how far he pushed Marlin's face down on his cock.

It was time for the roles to switch and for Marlin's monster cock to get sucked for a change. Dylan put the dick in his mouth and started to suck. As he got started, Marlin's cock didn't take as long to get hard. Watching the two of them interact with one another, Marlin pinched Dylan's nipples. Twisting and turning them in different directions, knowing that was something that got him turned on. After a while I asked the guys to get in the 69 position. Both guys said they knew what I meant and they lied on their sides sucking cock and seeming to like the head even more. Handing them a bottle of lube, my hope at that point was maybe they could get each other off. Both got some lube in their hand and started to trade hand jobs. As they did their thing, Dylan laid back, acting like he was getting close.

The guys just jerked themselves off and, as I watched, I was curious as to which one was going to blow first. Marlin seemed to have more speed in his jerking, so I kept on him mostly. All of a sudden his hand reached over and grabbed Dylan's arm which I found interesting. Seconds later his load exploded into the air, shooting all over his chest and stomach. After Marlin came, he was left covered in a mess. He sat there while Dylan was working on getting off. When he came, the cum shot out to about the middle of his chest and down to his dick. His load wasn't as big as Marlin's, but it was still a good-size load. I asked the two of them if they wanted to come back and they said yes, however they weren't looking to do anal together. It was clear that they both needed to be paired up with other models. I will see what I can do to get them back on Broke Straight Boys.