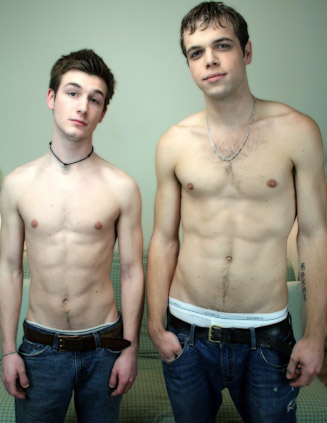 I brought Drew and Diesel back in to take things another step further from their last shoot that they were in. I wanted them to do anal together, both didn't have a problem with it at all. Drew said that he was down for receiving, but knew that with only bottoming a couple of times this one was going to be the biggest. In the shoot I didn't waste any time in talking in the beginning and asked the guys to go ahead and start getting undressed for me. As they started to strip down out of their underwear I brought up the fact that someone had already won Diesel's underwear in an auction and we were going to use them like a cum rag in the shoot. I asked Diesel how long he had been wearing them and he said three days. Drew had on a colorful pair of underwear, compared to Diesel's white briefs. Sitting on the couch the last step in getting undressed was for them to take off their socks.

The plan was that they were going to get hard, do a little oral, and then they would fuck. I explained to Drew that he wanted to make sure that he got Diesel rock hard, and I could tell that Drew was ready to suck some cock. Once the porn was playing I had them take off their underwear, the guys were left standing. I told Drew to drop to his knees in front of Diesel to give him head, and right away Drew put it in his mouth. Sucking, licking, pumping, swallowing, kissing, Drew was very busy giving the cock his full attention. When it wasn't in his mouth he was stroking it, and Diesel face-fucked Drew's mouth. Looking up at Diesel he had a smile on his face, and appeared like he was having a good time. I told them to go ahead grab a condom and open up the futon. Once they had it to a bed, I had Drew turn around to show his ass to the camera to give us a good look at the ass that was about to get fucked by a monster cock.

Using both hands to spread his cheeks apart, I don't think Drew had any idea of what was about to be put into his ass. Getting onto the bed in the doggy-style position he put a pillow between his arms and Diesel got in behind him. Diesel started very slowly in that he didn't want to freak Drew out, it was a little bit of a challenge to start with. Once Drew relaxed a little bit, he was able to get the head of his cock into Drew's very tight asshole. From there he kept pushing onward until his whole shaft was in as well. Then, he was able to pull out and push right back in working up to a pattern. The two of them were then fucking and Drew was starting to make some noise now that the pace was picking up. I was able to get great close ups of the penetration and after a bit Drew asked for a break. This was a great chance for them to switch up the positions.

Drew got onto his back and Diesel grabbed his legs and put them against his chest. Pushing back in, Diesel was able to pick up at the speed that he ended with, and then things seemed to get a little more intense between them. In this position Drew seemed to be enjoying the sex a lot more and grabbed the back of Diesel's legs wanting him to keep going. As Diesel fucked he would put one of Drew's legs down and then would hold both, so this allowed him to change up the fucking that was going on. The next break was brought on by Diesel who wanted to do a different position. They did this new position where Drew's knees were on a seat that we had in the room and his hands were on the bed. Diesel then had on knee on the seat and his other leg was standing. Watching the two of them in this position was hot to see them exploring more ways to fuck. Diesel said that he was getting close to cumming and so I had them get back onto the bed. I wanted Diesel to spray his load all over Drew's stomach. They were only in the position for a moment before Diesel shot his load all over, and I mean that it sprayed Drew. Watching Drew afterward it only took him a few seconds before he was ready to squirt his load. Once he got off I looked and Diesel actually got cum on the side table that was like 5 feet away. The boys wiped up the cum with Diesel's underwear and were ready to get cleaned up.