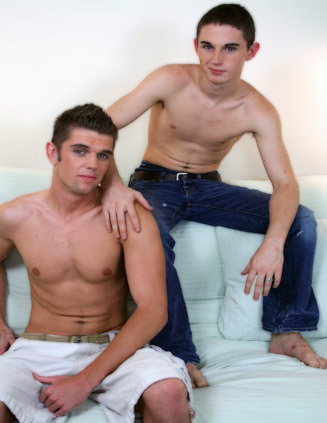 I called Ace in to do a shoot with us, and I told him that what I had in mind was just to get him used to being in front of the camera and work on his shyness. He agreed, but told me that he needed money to cover gas, because of how long of a drive it was for him to come to the studio for a shoot. I told him not to worry that I would take care of him. We set a date for him to come in on his next day off. When the actual shoot day came and Ace arrived at the studio I gave him a bit too just stretch his legs and get a drink before I put him on the couch. I told him my purpose for him doing the shoot again on camera, and that he was going to make $200 and a $200 gas card. Ace was down for that, and I told him that I was going to bring in another model that was kind of like him. With that said I told Tyler to come in and take a seat on the couch. We talked about how Tyler got started with us and that now he shoots with us all the time and happens to be members favorite.

I told Ace to take his shirt off so that Tyler could see what he looked like, and so he peeled it over his head. Right away, Ace's chest caught my attention and he was tone, smooth, tan, and good looking. I explained to Ace that the plan was that they were going to jerk off to the porn and then if that goes well we would take things one step at a time. Hopefully, do some more oral next, and eventually get him up to doing anal. Tyler joked around about breaking Ace in and getting him all loosened up. I had Tyler remove his shirt and then both of them remove their pants. The two of them sat on the couch in their underwear and started to play with themselves. It wasn't until Tyler took his cock out that Ace did the same. To make Ace a little more comfortable he even had put a pillow between the two of them. Ace was still not completely hard, but Tyler was doing just fine.

When I moved over to focus in on just Ace jerking off he lifted his foot up onto the couch allowing me to see more of his butthole. The room was pretty quiet except for the occasional moans that came from Tyler. Ace used his fingers to push up on the area just below his balls as he jerked off. In watching the two of them stroke their dicks, it was pretty clear to me that Tyler was holding back to see if Ace would be able to shoot his load soon. All of a sudden Ace was tensing up his body, and grabbed the couch with his hand. Thrusting his hips up off the couch into his hand, and I knew he was about to shoot his load. He gave me a warning that he was close and seconds later he came. Ace squirted his load out onto his upper thigh, and lower pelvic area of his body. After he was finished Tyler let out that he was about to shoot his load as well. That he did with most of it dribbling down to the base of his dick. Both guys did a good job, and my hope was that Ace got a little more comfortable. I want Ace to do more, so we will see what we can do about getting him back into the studio.