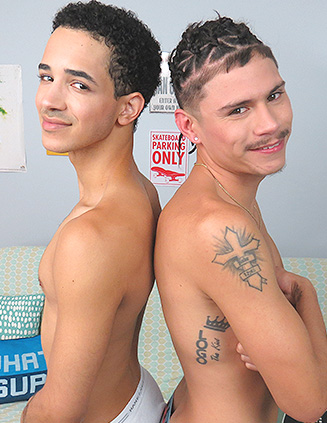 Listening to porn and using his brand-new pocket pussy tight on his cock, Chris Star lays in bed and moans to the pleasure of the faux mouth. Shea enters the room, kneels down, and takes over the toy's most important job - sucking Chris's cock with tight lips. "What the fuck!?" Chris responds, when he realizes that the fake lips got exchanged for real ones.
"What? You were using a mouth," Shea answers, knowing his mouth can suck cock better than some piece of synthetic. Agreeing, Chris allows Shea to continue using his mouth as his personal fuck toy. Shea lays back, body requesting to feel Chris's lips on his hard penis. Slowly, Chris's tight lips wrap around Shea's cock and tip, spit dribbling down the side as Chris leans back and waits for Shea to get onto all fours.
His first time getting fucked, Shea's tight hole needs to get massaged by Chris's finger. Slowly, he inserts his index finger, preparing Shea for his massive cock. Finally, when the tip of Chris's manhood enters Shea's opening, Shea reacts like a true unfucked straight boy - recoiling with surprise, hand shooting up to pause Chris's entry. Taking a moment to recover, Shea breathes deeply before letting Chris slide his entire cock all the way into his wanting ass.
"Better than a pocket pussy," Chris remarks as he shoves all of himself into Shea. Teasing him with a punishment for interrupting his alone time, Chris pounds the teen harder with each thrust. Shea breathes heavily, transitioning his hesitation into excitement as he feels Chris deep inside him. Turning to his back, Chris enters Shea again, as he touches himself. The slow, slight movements of Chris's hips increase Shea's pleasure, building him into a hot cum fountain. As the white cream lays in a pool at the base of his cock, Chris pulls out and cums over his new favorite toy. Who needs a pocket pussy when you have the oh-so-fuckable Shea Parker!?
Please leave commnets on the bottom of the page.