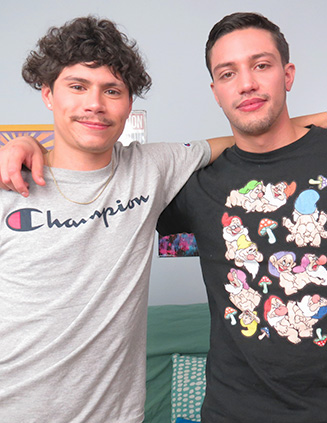 Matt and Chris enter from enjoying a nice Spanish meal, and begin immediately with gentle kissing. Chris uses his tongue to play with Matt's nipples, as he untucks his cock. Matt does the same, lips to nipples, firm fingers to cock. He begins sucking Chris's dick, hard and stiff, slowly. Teasing the tip and gripping the solid base as Chris moans from subtle satisfaction. Matt's thick, uncut cock gets its turn, enveloped in Chris's mouth. So thick, in fact, that Chris needs two hands to fully grip it, and just a few inches fills his cheeks with taught flesh. Matt looks on as Chris spits and sucks on his dick, shoving it tightly into his throat as far as he can before having to come up for air.
Chris, kneeling face down against the bed, plays with his dangling balls while Matt's tongue explores Chris's asshole. A finger. A thumb. A tongue. Matt uses it all to tease Chris's hole. "Is that your dick!?" Chris exclaims as Matt inserts a thumb. "It's tight as fuck," Matt replies after playing a bit longer in attempts to loosen Chris just a little. Moans of pleasure and intensity escape Chris's throat as he tries to relax himself before taking huge cock.
Ready to give him the 'real thing,' Matt places the tip of his penis at Chris's opening, and slowly presses into him. "Fuck me!" Chris yells, taking Matt's complete length inside of him like a true professional. Matt, gentle and kind, softly pumps into Chris, and checks in to make sure this new-to-bottoming partner is doing okay.
"It shouldn't feel good, but it does," Chris responds between moans. Matt, too, breathes heavily each time he pumps forward towards Chris's hips. The two continue to explore the sensation that feels oh so right - a cock in the ass. The vocal bottom turns over to his back, and Matt's huge cock enters him once again. Deeper this time, with the position allowing Chris to masturbate as he is filled up with Matt's erection.
The two alternate moans to the sensual pattern of a nice ass fucking. Chris, despite his protests to this 'wrong but right' feeling pleads "whatever you do, just don't stop," as he jerks himself faster. Even bringing Matt's strong hands towards his throat. The kinker side of Chris comes out as he moans about Matt's big fucking dick - and Matt's professionalism cannot be overshadowed as he patiently fucks Chris's virgin hole, leading them both to release hot cream all over this new initiant.
Please comment on the bottom of the page.