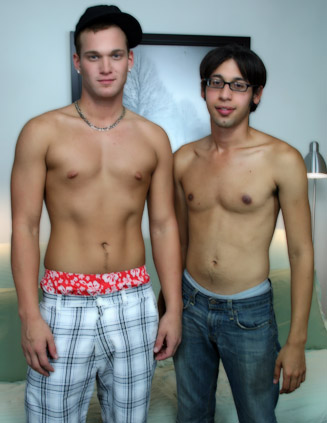 I tend to put random shoots to the side making it a goal of mine to go through them every so often, and when I do I usually find something that I missed. For example, I found this week's Broke Straight Boys update when I went through the pile. The shoot just so happened to be only a couple of months after Dustin started shooting here. The shoot just so happened to put Dustin and Nelson together. It was also one of Nelson's first shoots as well. Watching the shoot was like going down memory lane. Nelson was 19, gay, and had a fetish for doing things with straight boys, he said that he used to get them drunk, put on some porn, and things would just start to happen. Nelson told me that he was versatile, and so I said that in the shoot we could do some flip-flop fucking. Dustin right away caught my comment and said no way he was going to do it. I told them that I would pay them $1200 and I wanted to see it all, including kissing. Dustin said he would be fine with the kissing if I paid him a $100 more.

Once the money was agreed to, I had them start with just kissing. Dustin tilted his hat to the side and both leaned in for the kiss. Gently their lips touched, and their tongues even were a part of the action as well. Both seemed to be enjoying it, and I made a comment about them liking the kissing. That was when they paused for a moment, and moved on to taking off their shirts. To do that they stood up, and as Dustin was putting his hat back on, I asked him what it stood for. That got us side tracked on knockoff clothing, and Dustin just wanted to get on with the rest of the shoot. I had the guys take a seat back on the couch and resume kissing. Nelson worked his lips away from Dustin's lips and down to his neck. In observing them it seemed like Dustin was getting turned on the further down Nelson's mouth went. Nelson moved down to the floor, where he proceeded to take Dustin's pants off. In pulling them off, I noticed that Dustin had on a pair of Hawaiian boxer shorts. Nelson wasted no time in putting the cock in his mouth to get it hard.

Dustin changed position by standing up, and Nelson was great at taking that whole cock in his mouth. Deep-throating like he has been doing it for years, and this was even getting Dustin to make some noise. Once Dustin's dick was completely hard they were ready to move over to the bed. Nelson got into a slouched doggie-style position and his request was to have Dustin tease him with his dick. To do this Dustin slapped Nelson on the ass with his cock several times, and then with his hand. The more rough things seemed to get the more turned on they both acted. Opening up the condom and putting it on Dustin was ready to get his game on. He slid his dick right into Nelson's tight hole, causing him to grip the sheet tightly in his hand from the pain. With slow steady movements, Dustin started to pull in and out and start the fucking. Dustin worked up to getting to the point that he was trying to go as deep as possible. A couple of times they had to readjust themselves on the couch because they were falling off.

Nelson changed position to be on his back with his legs up in the air, however Dustin didn't leave them there for long. It was much easier for Dustin to do his thing if Nelson was curled up in a little ball. As Dustin started to lean more forward, Nelson's ass would come up, causing Dustin's dick go to deeper. It was the hottest thing watching the penetration of these two guys fucking. They didn't stop there the two of them tried one more position without pulling out. Dustin rocked back keeping Nelson on top, finally ending up with Nelson in the riding position.

Now, Nelson was left to do the work and Dustin could just lay there on the bed. Stroking off to having a dick in his ass, Nelson was getting off pretty fast. I knew that it was only a matter of time before he shot his load. He let out a warning that he was going to cumming, and in that position. Dustin told him to shoot, which surprised me because so far he hasn't allowed any other model to do that. As Nelson came, he covered Dustin's chest and stomach in cum. After he climbed off the dick, he then licked all of his cum off of Dustin's body, while Dustin just laid there. Then, it was time for Dustin to get off, and to do that Nelson said that he wanted a facial. They moved into position, and Dustin jerked off to the porn that was on the TV. Dustin has got to the point that now he can cum when we need him to. It didn't take him long before he shot his load all over Nelson's face and neck covering him in cum. Nelson, didn't just leave it there he licked and sucked all the cum off Dustin's dick as well. These two guys did a great job, and I love having them in the studio for their kinkiness during shoots.