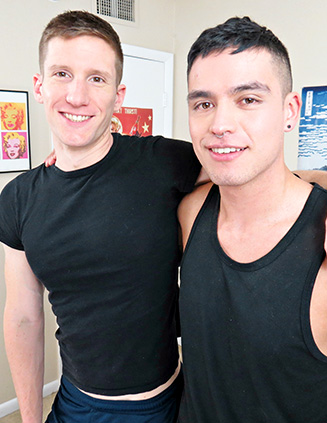 Well Aiden feels a strong, pulsing attraction towards Nico as they lock eyes and lips and begin to kiss. With their arms around each other, Aiden worships Nico's body by kissing all over it, until he works his way to Nico's uncut dick and begins sucking. "Go all the way. Ohh, just like that!" Nico exclaims as his cock fills Aiden's mouth. He grabs Aiden's head and pulls his cock deeper, until he wants to return the favor and begins sucking Aiden's dick.
Nico loves to be sensual, touching Aiden's face and chest while he goes down on him. This leads to a 69 where the boys please each other before Nico tells Aiden "I really want to fuck that ass of yours." Aiden lets him have it, and bends over to take Nico's dick raw from behind. Aiden moans hard while he's getting fucked. As Nico turns him over to his back, Aiden's eyes go wide while he's getting pounded.
Their fucking leads to Aiden shooting a load all the way up to his chest, which gets Nico to pull out and shoot all over Aiden. They finish with a passionate kiss, ending a very hot scene.