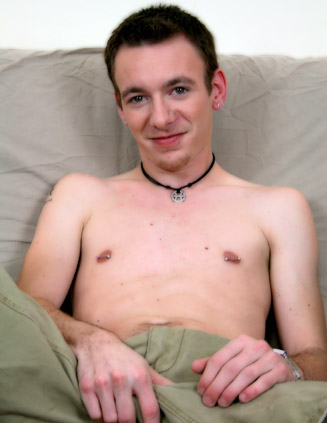 Our newest model is Jimmy, 20, from North Carolina, and Bi-Curious. His only contact with guys so far was jerking off with a guy to porn. The two of them didn't touch just sat on a couch next to one another. This was Jimmy's first time in front of a camera and he was a little nervous, but excited to be doing this. To get to know Jimmy a little better I had him answer some questions for me. He was surfing the internet one day and came across our website. I explained that he would have to start with a solo shoot, so that we could see how he does on camera. From there we could look at putting him in more work. Jimmy was going to school, but due to some money issues he had to go to working full-time at retail job and drop the school. However, things didn't stop there, he was only working for minimum wage and with today's economy his position got cut. As you can guess Jimmy was really broke and can use the money from the shoots to get back up on his feet.

Jimmy told me that he stands 5'7", cock is almost 7 inches, and his feet are a size 10. I made him stand up for me, and take off his shirt. Stripping it off he was very lean underneath, and it appeared that he spends some time in the gym. Right away I noticed that his nipples were pierced and he said that he loves to have them played with. Next to come off was his shorts, I had him leave his underwear on and take a seat back on the couch. I showed him where the lube was, along with a basket of toys that I leave out for boys to search through. Jimmy said that he was open-minded when it came to fucking, and liked the idea of doing both. That was when he told me that he likes to finger himself when he jerks off. Reaching in his briefs he started to play with his cock and he ended up pulling it out to play with it. With his other hand he slowly touched his asshole to get turned on at the sensation that he longed to make stronger. I told him to take off the briefs for us to see what he was doing, and he threw them to the side of the room.

Applying some lube to his dick, Jimmy started to stroke his dick with a lot more ease. As his hand pumped up and down, he seemed to be pretty hard, and then that was when he asked to play with the toy. I gave him the green light and he reached for it sitting on the table next to him. With the lube on his hand he applied some lube and proceeded to place it right at the opening to his anus. Pushing in he was able to get most of it in with one slow push, before I think shock hit him. He finished getting the toy in his ass and moved it around a bit. When I had the camera off while I grabbed a different camera, Jimmy asked me if he could put on his glasses. I told him that was fine, and he just told me that he was having trouble making out the porn on the TV. Jimmy stroked off on the couch watching the porn, and playing with his nipples. The pace seemed to pick up and I heard him moan just like twice the whole time. That was when he gave me a warning that he was about to cum. Sure enough he came shooting his load on his lower stomach and moaned the whole time he had his orgasm. Jimmy did a good job, and I think that it will be fun for both him and us to get to watch him have his first real experience with some boys.