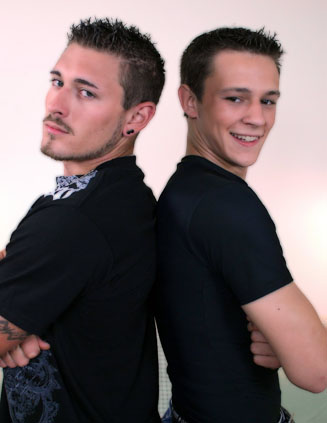 Lane happens to be one of the toughest models I have worked with in a long time and really it's his attitude that plays the biggest part. The story behind him was that he came to south Florida for a job, but when he got down here the job didn't pan out. He was stranded with no money, no place to stay, and no ticket back home. While he was sitting at the train station trying to figure out something to do, he came across our wanted ad in the newspaper that just so happens to be sold at the train station depot. After he gave me a call, told me his story I told him what we did as a gay owned and operated studio. In talking about shoots, money, and what he would possibly be willing to start with. We made arrangements for me to go pick him up from the train station. Lane did some work for us, and seemed to be okay with some guy/guy interaction. After he made some money and tried figuring out what to do, he spent a couple nights in a motel, and then called me to see if I would let him crash on a couch. Quickly he realized that he could make some easy money if he kept doing the shoots, and saved up his money.

When I setup for Lane to do a shoot with Jason, I told them both that I would have to see fucking in order for that to happen. I got an okay from both, who were just wanting to know what time the shoot would be. Really, all we had to do was wait for Jason to show up, and when he did I had the guys take a seat on the couch. As we started the camera, and I talked to Lane he seemed very ticked off. I knew that it was going to take him a little while to just loosen up. Putting the option on the table I asked which one would want to bottom, and there were no takers, so I put out the amount of money to bottom. Lane was very blunt that he didn't care what the amount was, there was not going to be a dick in his ass. That meant that if the shoot was going to happen that Jason was going to have to do it. He asked for some more money and I agreed to it, so that we could get going. Jason was just concerned that Lane was going to beat his ass if he did or said the wrong thing.

Standing up they both got undressed and down to their underwear. Lane had on a pair of boxers and Jason had on his pair of designer underwear. Sitting back down on the couch, the two of them rubbed their dicks to get hard. After a few minutes, I needed them to start interacting with one another, or it was going to get boring real fast. I told Lane to give Jason oral, and to do that Jason needed to take off his underwear. Lane grabbed the dick, and moving kind of slow he put it in his mouth. I was careful not to say anything, but just watch and let them do their own thing. As Jason's cock got harder, it was much easier for Lane to give head. Not that he would want to hear this, but he was doing a pretty good job. I even heard some moaning from Jason after a while, but I did get them to switch and for Jason to give head as well. As Lane got a blow job, he turned his head to the side and kept his eyes closed trying not to see what was going on. However, there were some peeking going on, and I think he was just a little curious.

I told them to grab a condom for the fucking and that we would get the room ready. Changing the futon into a bed, I asked Jason how he wanted to get started and he said that he would just lie on his back. Well, when Lane was ready he pushed his cock right in there, and about half way Jason freaked out and moved out of the way. Jason was in a little shock about how much pain he felt. To make it easier I had him to what I suggested and ride Lane's cock. All Lane had to do was keep his cock hard and just go along with the fucking. Jason was able to move at a pace that made him comfortable to begin with. Once in a while Lane would hold onto Jason's ass to help him up and down.
After a while though, Jason's legs were getting tired of doing all the work, and he wanted Lane to take over. They decided to try the position that they first started with. Jason put his feet up against Lane's chest; my guess was because he wanted to use them if Lane started going too fast. Once the cock was inside the tight hole once more, Lane grabbed the feet and brought them down folding them and riding Jason's ass like it was a pussy. The faster he went the more that Lane would moan and make some good faces. Both of them were getting into the fucking and Jason felt comfortable enough to start jerking off, and his cock was rock hard. As the fucking continued I heard that he was getting close to cumming. That was when he shot this huge amount of cum on his stomach. Lane slowed down and eventually pulled out and I told him that he just needed to jerk one out for us. Sure enough he was able to make it happen pretty easy, and when he came it went all over his hand and dick. It took a while for Lane to just let go of doing stuff with a guy, and just fuck. I hope that we can get Jason to come back and take another cock now that his hole has been broken in.