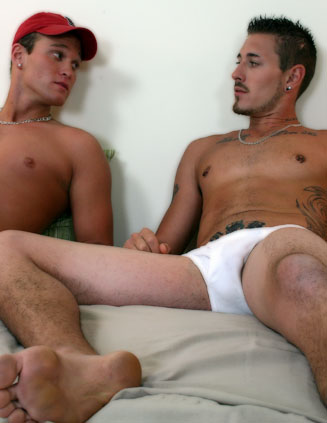 Dustin called me up and he was looking to make some very fast money. The day before he had been in a shoot for me, and afterward I guess he took his girlfriend out downtown with the money that he made. Well, after they went to dinner and to see a movie, when they got to the street that he had left his car on it was gone. Dustin said at first he just thought that he had the block he parked on mixed up, so walking around the block he realized that he had parked in front of a fire hydrant, and so his car must have been towed. When he called the towing company on the sign they told him, they had his car and it was going to cost him $400, plus two outstanding parking tickets for $100 a piece. The next morning, Dustin just showed up at my door step knocking on my door. I was a little shocked to see him standing there that early, but he pleaded with me to do a shoot right then and there, to make the money to get his car back. I knew that he was desperate, and so told him if he went in to talk to the new guy, Lane and convince him to do a shoot where he got his dick sucked by a guy I could get him a shoot.

See Lane was straight, and he called me up saying from the ad that we run in the newspaper saying that he came to south Florida for a job interview, but when they changed their mind and went with someone else, the company cancelled his ticket, and he didn't have a way back home then. That's when Lane found our ad, and called me up. I told him to swing by and he ended up doinga girl fucking scene with Dustin and Samantha. Well, he had no place to stay, and so I let him crash in the studio room on the bed for the night. When Dustin showed up looking to do a shoot right away, my only option was Lane in the studio room. The guy has never been touched before by another guy before, and so I knew that Dustin was going to have to do my job for me. I followed him into the room, and there was Lane asleep on the bed. Quietly, Dustin attempted to wake him up, and Lane seemed a little surprised to find me in the room with the camera on. Dustin explained his situation to Lane, and how much he needed to do a shoot. But, also at the same time, Lane was going to make some extra money to take home with him as well. Plus, I threw in that I would let Lane crash for one more night at the studio.

Lane had fallen asleep in his underwear, so I told Dustin just to reach over and start to rub Lane's dick. Lane just focused on the T.V. and didn't pay much attention to the camera. After a minute or so, I had Dustin strip down to his underwear and Lane play with himself. Dustin seemed to have a hard time relaxing, and so he was being a little shy about whipping out his limp cock. After the two of them started to use some lube, Lane took of his underwear and Dustin asked me to cut for a moment. He wanted to get his dick hard so that he could perform for the camera. I did, and Dustin just stepped out in the hallway, where he jerked off and returned a moment later with a hard cock. That's where I reminded him that he had to suck some dick. In giving head, Dustin got on his side, laying next to Lane, and placed his dick in Dustin's mouth. Dustin hates when I talk about dick sucking to him, but he seemed to listen to the tips that I had been giving him, because he was showing some talent when he was sucking off Lane. Lane as much as I think he was trying to appear to keep his eyes closed the whole tie, was secretly watching what Dustin was doing.

I didn't want Dustin to go completely soft or otherwise it was going to take us forever to have him get hard again. The guys went back to jerking off next to each other, and Lane was great at giving me a warning that he was getting close to cumming. I told him that it was fine, and moved in closer. Lane shot his load on his lower stomach, but it was very thick. Moving over to Dustin, it took him a minute, but he seemed to be ready to blow his load as well. He came all over his dick and hand, and kept jerking off to get everything out. Lane wasted no time in asking for his money. I told him to go hop in the shower, and I would get his money for him. I hope that if Lane stays down here for a couple more days I could get him to fuck a guy perhaps.