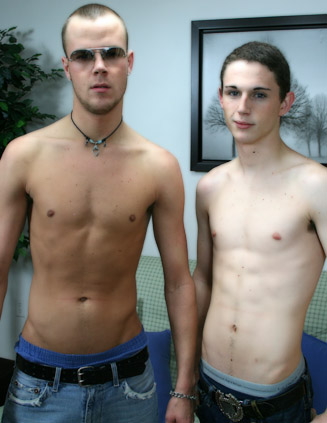 I brought Austin and Tyler back for another shoot, because the members voted to pair the two of them together. Now, the two of them have done oral before together, but my goal was to take the shoot one more step further and have Austin bottom. However, he really wasnt up for taking a dick for the team to make a really hot shoot. Both boys were wanting to top, and preferred it. In talking about money, I offered them both a fairly large check to do the shoot, but Tyler still wanted more money if he was going to have to take Austins dick up his ass. Reminding Tyler about his first time and how it didnt seem like it was all that bad in the shoot, he just told me that it was a show for the camera. Tyler had to bottom for a scene with Aidan who had a huge dick. The pressure was on Tyler to be the most likely candidate now for bottoming. When everything was settled, I laid out what was going to happen and what we should start with.

The guys proceeded to stand up, and started to strip off their shirts revealing their bare chests to the camera one more time. Getting to their pants, they dropped them to thei floor and were standing in their underwear. These boys were use to being in front of the camera, and doing what was needed to get the shoots done. My plan wasnt to go too soft on them in the shoot. I asked Tyler to start giving head to Austin, so that we could start to get them hard for bigger and better things. Austin sat with his legs spread apart, and Tyler leaned over to his side taking the cock in his mouth. Tyler was one of our better cock suckers, so Austin had a full boner in no time. Austin was enjoying it, because he kept watching what Tyler was doing the whole time. I was impressed that Tyler didnt result to using his hand very much during all the oral. At one point Tyler paused to take a break, and I asked if they were ready to start the fucking. Austin was turned on and horny with a raging boner.

Getting the couch turned into a bed, the guys got ready to start the fucking. I told Austin to take it easy on Tyler since it had been a while since he last got fucked, and because this wasnt exactly what he wanted to do. In talking with Tyler we figured out that the best position for him was on his back. Getting into position, Austin lubed up his dick while Tyler did his hole. Austin began to stick his dick in, and was able to get pretty deep without freaking Tyler out. Making a comment about how tight Tyler was, Austin was turned on by it. At the same time as getting fucked, Tyler stroked his cock which was rock hard from having a dick rubbing his prostate. Listening to the guys they were both breathing out loud for us to hear, and moaning from what they were experiencing.

Austin was trying a couple different techniques while he was fucking. Moving Tylers legs around to different position, Austin would angle his hips a little different causing him to go even deeper into Tylers hole. In a shout out, Austin announced that Tylers ass was a lot tighter than his girlfriends pussy and that he was enjoying it. I asked if he liked it better than pussy, but he had no comment for me on camera. I just dont think he wanted to admit it, just incase his girlfriend ever saw the video. Tyler let out that he was going to cum, and Austin told him to go ahead. He came on his stomach, and it was hot to watch him get off. Austin pulled out at the same time, ripping off the condom and throwing it to the side of the room. He stroked his dick with some speed, and within no time he yelled that he was going to cum. As he did, he came on Tylers stomach shooting his load all over. They both did a great job in the shoot, and I was very happy with the way that it turned out. Austin was tired and worn out from all the work that he did fucking, and he fell forward laying his body on top of Tylers. He even rested his head on Tylers chest for a moment for some skin on skin touch. The two of them got up and headed to the bathroom to get cleaned up as soon as I shut the camera off. Stay tuned to see what we can bring you next.