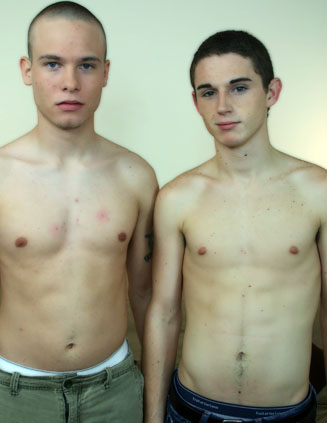 I got a call from Corey, 21, a guy that hasn't been on in a while, and he said that he was interested in doing some shoots. I setup a shoot for him to come in and meet Tyler. When they arrived we talked for a little while and then they took a seat on the couch. I started with introducing Corey to begin with, and why he was joining us. He said that he had been partying and playing the field in his home town, but his money has been running out. Corey said that he was completely broke and needed to make some money for buying a gun for deer season. Corey agreed to give oral in the shoot to make a decent amount for the shoot. I called Tyler into the room to take a seat on the couch. In joking around the guys laughed about hunting and cars.

To get things moving along I asked them to take off their shirts. In order to do so, they stood up and peeled off their shirts. As soon as they were off they took a seat on the couch. Next to come off was their pants, and I had them leave their underwear on for a little bit longer. Turning around I asked them to show their butts to the camera. Corey was being a little shy about it. Taking a seat on the couch again, and the guys started to watch the porn that I put on to get hard. Reaching inside their own underwear they played with their cocks. It didn't take very long for Corey to get rock hard, it seemed like Tyler wasn't completely hard yet. I had Tyler start to give head to Corey first. He leaned over to his side and put the cock in his mouth. He was able to go all the way down to the base of his cock. After only a short time Tyler sat up and took a break.

I asked Tyler what he was doing; he was being a cheap date and not doing all his work. He laughed and said that he wanted dinner first. He returned to sucking dick again. He was doing a great job that Corey kept his eyes on watching Tyler the whole time. That boy has improved his cock sucking skills each and every time he does a shoot. As soon as I found a good place where they paused, I told Corey that it was his turn to give head. He looked at me with a look like, okay if I have to. But, first I wanted them to take off their underwear to get more comfortable. When Corey took his off he stepped right in the view of the camera, so I was able to get a close up of his cock. Before he would get started he wanted Tyler to get hard. Both of them sat there watching the porn, stroking their dicks. It was a little surprising that Tyler took as long as he did, but by the time Tyler was ready his cock was rock hard.

Corey turned to his side, took a firm grip on the penis just about the base, and lowered his mouth. Closing his lips around the cock, he created a vacuum sensation and started sucking. His head began to move up and down on the dick. Tyler seemed to be enjoying it, from the moans that I was hearing. Corey seemed to keep a very steady pace throughout the blow job that he was giving. After a while his mouth got tired and the two sat next to each other and jerked off. Tyler seemed to be getting closer to getting off, because his hand was slowing down, and he was concentrating on himself. It was only a matter of time before he shot his load all over himself, and it was a good size load. Corey kept jerking until all the cum was drained out of Tyler's dick. Then, Tyler leaned over and started to lick on Corey's balls while he jerked off. As Tyler's hand started to speed up, Tyler started to pinch on one of Corey's nipples. Corey shot his load on his stomach and felt relieved afterward. The guys did such a great job, that I would like to bring Corey back in to do some more work, and maybe we can get him to do some fucking next.