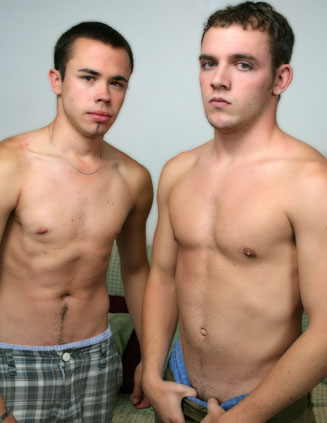 JC contacted us to see if we would use him as a model, because he was interested I making the cash. Another reason he was interested in becoming a model was because he wanted to experiment as well. He is 21, and has thought about doing things with guys, however he has very limited experience. When it comes to girls, he said that he has been with his fare share. Now, originally when I brought him in to do a shoot, I told him that he could start out with a solo shoot, but my schedule was backing up. I asked JC if there was anyway I could match him up with another guy, so I could get caught up. I told him he would make more money if we looked at doing an oral scene. I could tell that he was open-minded by his reaction, and he seemed down for trying a little dick sucking. The other model that I had in the other room was CJ, who is 19, straight, and has done some shoots with us before. CJ took a seat on the couch, next to JC and I introduced them to each other.

I told them to take off their shirts so that we could get started, but also so we could compare their bodies to one another. They both were white boys, and CJ had a little bit more of a tan to his skin. JC was skinner, and had more of a twink type fib, where as CJ was more of a jock and spends more time in the gym. I had them both turn around to show their butts to the camera. Pulling their boxers down they showed their buns, and both seemed to have a nice ass. Turning back around, I told them to go for their pants, but to leave their underwear on for a moment. Taking a seat on the couch, they started to play with their dicks, and right away I noticed that CJ had a hole in the bottom of his boxers. The two of them reached over and started to jerk the other one off. JC's dick was out of his boxers, and both guys stroked each other. Leaning over CJ took JC's limp cock in his mouth and started to suck it. JC started to talk a little dirty and his cock started to get hard. I asked him how long it had been, since he last had his dick sucked by a guy. His response was that it had been over a year.

CJ was sucking cock like a pro for a straight guy. He sucked dick for a while, until JC pushed him to the side. JC leaned over and started to give head. I let him go for a while, and then I wanted to get CJ's opinion of how he was doing. To my surprise, CJ said that it was better than of the girls he has been with. Reaching over, CJ tried to stroke JC's cock to keep him hard, but found it difficult to do both. The boys did their own thing, when it came to changing it up. JC took a break, and when he sat back on the couch. CJ moved to the floor on his knees in front of JC. That is where he was able to position his head to get most of the cock all the way in his mouth. While he was giving a blow job, he slid his hand up JC's chest squeezing and rubbing his nipples. Moving to his feet, CJ stood up in front of JC to have him suck his dick. While they were doing their thing, I told CJ to fuck his face with his dick. Both of them seemed to be enjoying the moment.

The two of them took a seat next to each other and jerked off. They reached over and jacked the other one off. Both were trying to stroke as fast as they could to get the other one off. The two of them concentrated on what they were doing, and I thought that any one of them could get off at any second. JC was starting to slow down, and his face was getting red. He let out that he was about to cum. He came shooting some of his load all the way over his shoulder and up his chest. CJ had cum on his hand, and I was interested to see how he would react to that. In the past shoots he has demanded a rag to get cleaned up before continuing. In was only a short moment later that CJ let out that he was about to shoot his load as well. He came blowing his load on his stomach, and JC did a good job in making sure that he got all the cum out of CJ's dick. Both guys did a great job, and I think that it will be interesting to see how they would do going all the way in another shoot. I know that they want the money, so keep watching to see if they will show for another shoot.