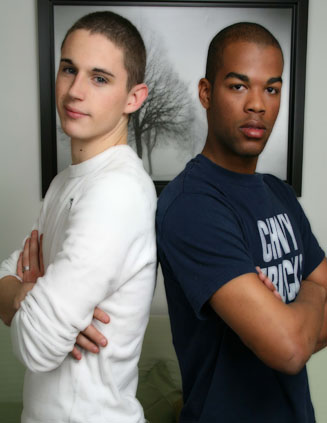 Tyler is one of our models that we get emails about all the time, and members want to learn more about him. After I had done a shoot with Tyler in Phoenix we had got so many questions that I decided to bring him in for an interview/get-to-know session with Tyler. Starting off, I had Tyler kind of recap some info about himself. Starting with that he is 18, 5 feet 10 inches, and for the members that emailed about his feet. Tyler wears a size 11 shoe. Recently he has been going to school in North Caroline, and came down to do shoots on breaks for a little get away. I met Tyler at a car show, while I was there visiting with another model. He was walking around looking at cars and just so happened to be in a car at the same time we were. When Tyler started out with us, he honestly was straight and never had a gay experience. On occasion he would just fantasize about guys, but never acted on it. Slowly through one shoot at a time he enjoyed the money, but also started to enjoy the work. His girlfriend has no idea of what he has done, and lives a straight life outside the studio. The only gay sex that he partakes in has been in front of the camera.

Favorite scene that Tyler said he enjoyed was the Phoenix shoot, which was the one where the guy drank cum out of a glass at the end. Money has always seemed to motivate Tyler, but when it came down to swallowing a load of cum. No amount seemed to be enough. I told him that there were some members that really wanted to see him bottom, and then also be in an inter-racial scene. I told him that we would find a black guy first and start out slow with oral and hopefully add in the anal later. He said that he would be down; the only thing left that I had to do was find a model for the scene. To make things a little different I told Tyler that we would go down to the local mall and see if we could find someone to pair him up with.

When we showed up at the mall it was deserted and no one seemed to be walking around except for a couple of old ladies and little kids running around. We decided to make a trip around the mall and as we had approached the restrooms, I saw a pretty good looking guy walk out. Following him outside, we confronted him in the parking lot and found out that his name was Derek. He was gay, and interested in making some money for being in front of the camera. The guys were really nervous for meeting and talking about porn in public. I had Derek follow us over to the studio to get started. Getting into the studio we moved over to the couch to begin. I gave Derek the low down about how the shoot would go, and he admitted to seeing the site a couple of times. I told Derek to start to get undressed for us, and he stood up and stripped off his clothes down to his underwear. As the clothes came off, Derek's body was revealed and he was in great shape. He had a nice tone chest and stomach, and said that he enjoyed working out 5 days a week. It honestly showed, and I had him turn around showing off his body for the camera.

Tyler was next to strip his clothes, and as he got undressed, I continued to ask Derek some more questions. He told me that he preferred to be with white guys, and liked guys like Tyler. The guys reached inside their own underwear to play with their dicks to get hard. Once the underwear came off, the guys were both rock hard. Since Tyler was use to being in front of the cameras, I knew that he would be fine with giving oral first. I had them start to give head to Derek. Putting his mouth around Derek's big, black cock he was good at being able to take most of it in his mouth. Tyler was proving to be a pro at the dick sucking, and Derek commented that he was enjoying it. I then turned the camera on Derek to give a blow job on camera for the first time. Derek seemed to be a true gay boy in that he knew how to suck dick. I wanted Tyler to suck a little more cock before the two of them were ready to blow their loads. Tyler started to gag a little bit on the cock and that got Derek turned on more.

The boys sat next to each other on the couch, and I told Tyler to jack Derek off until he would cum. After I gave them a bottle of lube, both of them seemed to be really happy sitting there on the couch. I started to notice that Derek's hand started to slow down and that he was getting close to blowing his load. He was holding his breath a little longer, his body was getting red, and he was squeezing his balls tightly. Moaning very loudly as he came, shooting lots of cum all over his dark lower stomach. His cock was covered in cum, and he admitted that it had been a while since he last got off. I asked him if he preferred to top or bottom, and Derek said that he was versatile. Turning the camera to Tyler, it was now his turn to get off, and he would prove to be a champ. It took him a moment to watch the video that I had playing to get in a mode. He pumped his dick at a pretty fast pace, and then shot his load right up his chest. Hitting the area between his nipples with his load, the cum ran down to this dick. Both guys did a great job, and I hope to see Derek back into do a shoot with a straight boy here soon.