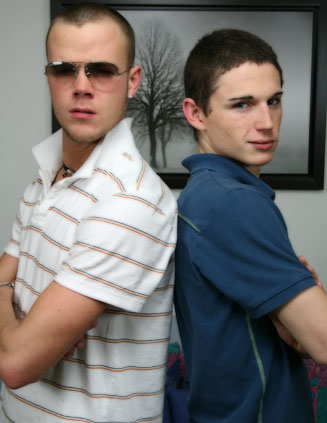 Austin Grant is glad to be back in the studio and making some more money with us. He has been spending time with his girlfriend, and just hasn't had time to come down to do much work. That was until I called and told him that I had received tons of emails, and letters saying that they wanted Austin to come back. I even had received emails requesting to see Austin and Tyler together in the same shoot. Tyler I knew would be up for more work, and his schedule is always open. I arranged for a shoot to happen and when the guys showed up they shook hands and took a seat on the couch ready to get started. I grabbed my equipment and we were ready to go.

Both guys wanted to make the same amount of money, and seemed to be money driven. I had them stand up to get undressed, and asked them nicely to get undressed slowly. As the clothes were stripped off piece by piece, I noticed that Austin had been spending some time out in the sun. The boys took a seat on the couch, next to one another in their boxers. With this being just another shoot for them, I knew that they shouldn't be all that nervous to be in front of the camera. Reaching over they started to play with each other's cocks a little bit. Austin didn't take long to get hard by the skinny, young, good-looking twink touching his cock. I asked them which one wouldn't mind sucking dick first, and neither one really jumped at the chance. Tyler stepped up to the plate and he said that he would. The guys stripped off their boxers, and took a seat on the couch. Leaning over Tyler took a hold of Austin's monster cock and placed his mouth on the tip of the cock. He then began to suck up and down, while Austin got to enjoy.

Austin was very turned on and said that this was the best shoot that he has done so far. He said that the viewers picked a good model to pair him up with. Austin moaned loudly for all to hear, and would press down on the back of Tyler's head. Tyler seemed had a talent for giving a good blow job, and that I watch out for. He does the shoots and everything involved without really complaining, showing that he is liking the guy on guy action a little more each time. Austin's cock was I think it's hardest it's ever been, and that just might be that with all the guys he has been paired up with, he likes the younger, twink guys to mess around with. After showing off his size for the camera I had Austin return to the couch and begin to give Tyler head. Tyler had been having some hard issues early on in the shoot, but those were starting to go away once a mouth was on his dick.

Tyler couldn't help, but stroke and play with Austin's cock, while he was getting his dick licked and serviced. Light moans could be heard coming from Tyler, as he too was enjoying everything that was going on. Austin doesn't mind giving head, but can't do it for long. In no words he motioned for Tyler to go back to sucking his dick, and Austin was back to being pleasured. The boys gave head for a while on the couch, but then wanted to get a little more comfortable so we changed the couch into a bed. They 69ed, and I was able to get above them to show that they seemed to be connecting with each other really well.

The hottest moment in the whole shoot, I think was when Austin was up on his knees and was face fucking Tyler. It did take Tyler a little bit to relax and allow Austin's monster cock down his throat, but they got into it. Tyler stroked his cock at the same time, and I was hoping that they were going to get to a cum shot sometime soon. Austin was getting close to shooting his load and he pulled his cock out of Tyler's mouth. He jerked himself off with some speed and came all over the upper part of Tyler's chest. The warm cum hit Tyler's chest, causing him to moan and start to get more turned on himself. In a moment of passion he swallowed the cummed dick in his mouth and jerked himself off as well. Austin rubbed Tyler's body, and they were in a place all themselves. Tyler let out that he was going to cum, and he shot his load all over his lower stomach. Austin smeared it round with his hand. The two of them were tired, and had a bit of a workout for doing the shoot. I thanked them for coming in for us, and told them that we would like to keep them coming back.