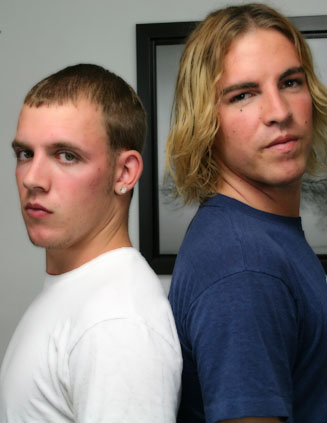 CJ and Ethan have come back for the shoot that we had been waiting to do after they had some time to think it over. After the last shoot they did together I asked them if they would do an anal scene together, and I really didnt know if it was going to happen. In talking with them about it they agreed to do it, but then I needed one of them to decided that he would take it up the ass for the first time. Well, Ethan told me that he wasnt going to do it, even for what we were paying. CJ had always liked to have his butt played with in shoots, so I knew that he would do it. I setup the shoot for them to do, and so when they arrived they were ready to get to work so they could get that nice paycheck once again.

Once we started the camera we went over the amount they were going to make and then who was going to top or bottom. In joking around, I still tried to see if I could get Ethan to try it. But, he wasnt going to change his mind. CJ was still up for trying it for his first time getting fucked by a guy. They stood up to start to get undressed, and stripped off their shirts first. When CJ got down to his boxers I asked him to turn around to show his ass to the camera. His pale, bubble-butt, virgin ass was exposed to us. I asked him to bend over to show it to the camera. He did a little bit, but I wasnt going to press my luck. Turning back around he asked if Ethan was getting hard yet, and reached over to grab his dick. CJ pulled out his cock through the fly and working on getting himself hard. Ethan just played in the little briefs that he was wearing.

Wanting to get started, CJ asked Ethan if he wanted some play. Stepping towards Ethan, CJ started to stroke Ethans cock to get him harder. Without saying anything, CJ dropped to his knees and took the dick in his mouth. Giving him head, Ethan made some noises and I knew from the last shoot that he liked CJ giving him head. Both of them seemed like they were ready to move on to the fucking. Ethan was the one that decided that he would give CJ head for a bit to get him turned on as well. CJs cock was rock hard, and we could had bounced a quarter off of it the way it was pointing out from his body. After that they both really were ready to start the anal and moved to the bed. Wanting to start out in an easy position, CJ got down on all fours for doggie-style. I warned Ethan to go slow, because I knew that CJs ass was going to be very tight from nerves. Once everyone was lubed up, he pressed his cock against the asshole and with some pressure worked its way inside. I looked at Ethans face and you could see from the facial expression that he was getting turned on. As for CJ, his face showed that he was trying to relax, but was experiencing some pain.

Ethan grabbed a hold of CJs shoulder and pulled him back as he was trying to fuck him. They went really slow, and I wasnt in a hurry since I knew that this was CJs first anal experience with a guy. After a while though, I told them to change positions and for CJ to get on his back to make things a little easier on him. Once they did, Ethan got hard again and in this position he was able to get his dick into CJ a lot easier now. Some pounding occured and they picked up some speed. Both these straight boys together looked hot! With one foot against his chest Ethan was trying to get in as deep as he could. Reaching forward, CJ was trying to limit how much cock was going in his ass. But, sometimes he would forget about it, and that was the best. As CJ got fucked his abs of steel popped out, and he moaned like he was enjoying it.

The color of CJs skin was starting to turn bright red, which is always a sign that he was getting close to an orgasm. They were only able to continue for a little bit longer, before Ethan pulled out, jerked off, and was about to give me a cum shot. When he did he came a giant size load shooting all over CJs chest hitting his nipple right on the dot. It was CJs turn to get off and his approach to stroking his cock was a lot slower and tighter at first. After a while he picked up speed and moaned as cum shot out of his dick and landed on his hand. They did a great job in the shoot, and CJs ass wasnt a virgin any more. I followed CJ into the bathroom where he wanted to take a shower to clean out all the lube. I hoped that they both would come back to do some more work soon.