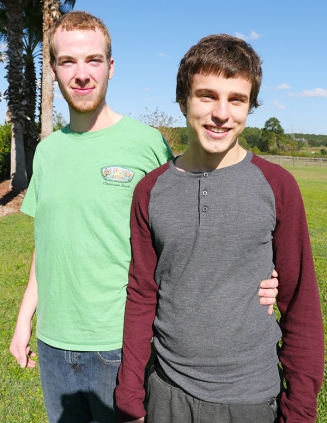 Jesse Avalon doesn't have much experience in giving rimjobs, so the more knowledgable Kyle Porter volunteers to show him exactly how it's done! Jesse strips off his pants and Kyle buries his face between Jesse's ass, running his tongue along that tight hole and teasing Jesse's balls as he licks his way up and down.
When Jesse's gotten a good handle on the idea of eating a guy out, they swap positions and now Kyle is on the receiving end, enjoying Jesse's tongue on his ass as they both get each other hard and hot. Jesse can't resist that tight ass and when he's done licking it, he sticks his cock inside of it, bareback, and fucks Kyle hard and deep, slapping Kyle's ass as he stuffs him full of his hard dick.
They try reverse cowboy next, with Jesse dominating once again as he holds Kyle's hands behind his back and lets him ride his big prick, moving up and down on Jesse's thick shaft while he jerks his own hard cock. Jesse watches as Kyle touches himself, getting closer to coming while Jesse's cock is still deep inside of him, and once Kyle cums Jesse flips him over, holds him down and jizzes across Kyle's face!