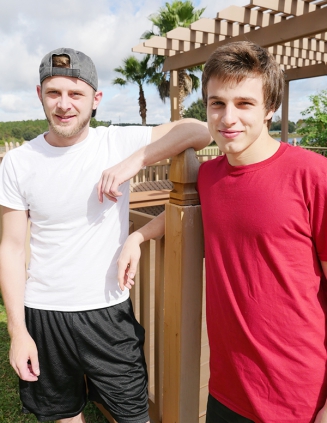 Jesse Avalon is still a little camera-shy after his solo scene, but we've got Chandler Scott in the studio with him today to help break the ice as Jesse gets used to things around here! They both strip down to boxers and Chandler kisses his way down to Jesse's cock, pulling it out of his underwear and taking it into his mouth, sucking on it as Jesse watches from above.
Chandler's expert mouth gets Jesse hard in a matter of seconds, and his fat cock stands at attention as Chandler runs his lips and tongue across it. After Chandler teaches Jesse by example, Jesse decides to give it a shot and he gets on the floor between Chandler's knees, wrapping his mouth around Chandler's meat and getting a feel for giving head as he makes Chandler's dick swell.
They 69 next, each getting some oral before Jesse gets to fuck Chandler, bending him over and sliding his bareback cock inside of Chandler's ass, getting dominant as he holds Chandler down and pounds him hard. Jesse fucks Chandler deep, burying his dick inside of Chandler's ass as he gets rough with him, slapping him as he dominates Chandler's ass then pulls out, letting Chandler cum and then giving Chandler a mouthful of jizz!