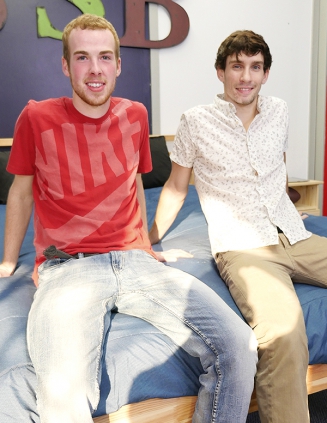 Abram Hoffer has been out of the studio for a while, staying busy with school and life in general, he just couldn't find time in his schedule to shoot some porn with us! But now that we've got that worked out and he's back with us, we're introducing him to Kyle Porter, and even though it's these boys' first time meeting each other, they fuck like they know what the other wants!
In fact, Abram doesn't take any time to warm Kyle up, he bends him over on the bed and shoves his hard dick up Kyle's ass, fucking him hard and raw while Kyle adjusts to Abram's cock inside him! Abram decided he wants head and gets Kyle on knees to suck Abram's cock, and as Kyle blows him Abram pushes his fat prick farther down Kyle's throat until Kyle is ready to take that cock again!
Abram dominates Kyle, taking charge and fucking him bareback however he wants him, and Kyle takes that cock like a good little bottom until Abram is ready to shoot his load, and he cums all over Kyle's back then sticks his dick back inside of Kyle for a few more good thrusts before pulling out and making sure Kyle gets off, too!