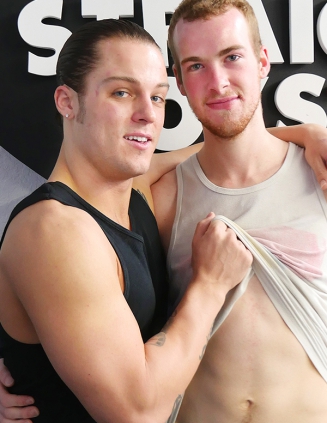 Newbie Kyle Porter is in for a treat as we've paired him up with the super sexy and self-assured Zeno Kostas, and Zeno is ready to show Kyle what porn is all about! He straddles Kyle and they kiss while Zeno grinds his hips against Kyle's package, slowly losing pieces of clothing until they're naked and Zeno's mouth is on Kyle's cock!
Zeno sucks that sweet meat until Kyle is all warmed up, then Zeno lets Kyle get a taste of his dick as lies back and lets Kyle at his cock, licking and sucking Zeno's balls and shaft while Zeno gets harder by the second. When these two studs have had enough oral, Zeno lubes up and holds Kyle's legs in the air, sliding his pulsing bareback cock slowly into Kyle and letting his ass stretch around that fat dick.
When Kyle is used to Zeno being inside him, he flips Kyle over and fucks him raw, burying his full length in Kyle's tight ass! They switch it up again and Kyle climbs on top of Zeno and rides his big dick, pulling Zeno's naked prick in and out of his hole as Zeno helps thrust it deeper! Zeno gets creative and claims Kyle's ass in a few different positions, plowing him hard while Kyle takes that dick without complaint until Zeno cums onto Kyle's ass and then gets his sore hole filled with jizz until he busts a nut next!