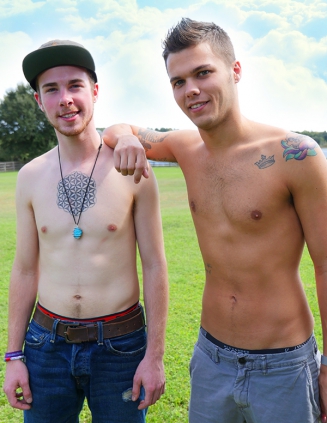 Kaden Porter got past his solo scene, but of course there's much more than just jerking off here on BSB, so we've paired him with the experienced and sexy Gage Owens to show him what comes next! They lock lips and make out, kissing each other as they drop their clothes and when Gage pulls Kaden's boxers off and wraps his mouth around that cock, Kaden's reservations seem to disappear as he lies his head back and enjoys!
Gage knows just how to suck Kaden's dick to make that cock grow, and hopefully Kaden is taking notes because he's up next to give head! Gage takes out his meat and offers Kaden a taste, and for a newbie Kaden surprises us all, deepthroating Gage's cock and teasing every inch of that dick with his wet tongue, even sucking on Gage's balls!
When they've gotten each other hard, Gage bends over the bed and lets Kaden fuck him and Kaden doesn't go easy on Gage, he stuffs his fat cock in Gage's ass and pounds him hard and deep! Gage moans as Kaden stretches his ass, then they switch positions and Kaden gets his dick ridden by Gage who grinds on Kaden's cock until they try one more position that makes them both shoot their hot loads all over Gage, who opens his mouth to catch some of that sweet cum!