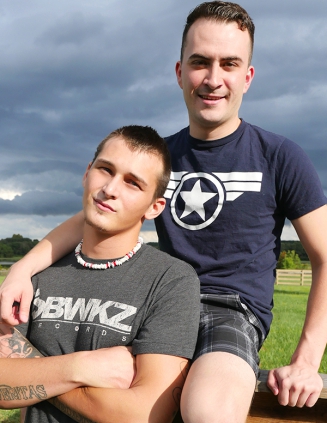 David Hardy and Jaxon Ryder don't waste any time with small talk, these guys are already making out by the time the cameras are rolling and in a matter of minutes, their clothes are off and David's mouth is on Jaxon's cock. David sucks Jaxon's uncut dick until and then Jaxon gets his mouth on David's meat next, pulling off David's boxers and giving him a few sucks before they 69, both guys pleasuring each other at once as they give some damn good oral!
When Jaxon's got David's cock hard, he starts playing with David's ass, fingering David's entrance while he wraps his lips around the tip of David's long cock. When they've had enough foreplay Jaxon slides his bareback dick into David's ass, fucking him hard while David turns around to kiss Jaxon as he gets his ass pounded. They flip and David warms up Jaxon's ass with his fingers before sticking his dick in it and fucking him raw.
Jaxon takes that cock like a good boy until they flip again and Jaxon is topping David, pounding that hot ass until he pulls out and shoots his load all over then fucks David with the cum. But David gets revenge by jizzing on Jaxon's face and then making him taste it before calling it quits to go clean themselves up!