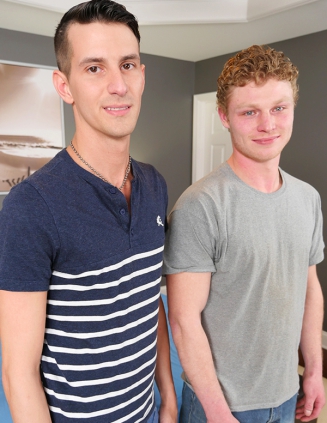 We paired one of the newer models, Levi Jackson, with our experienced guy Mikey and we're excited to see the chemistry they bring to the studio! When we set them loose they go right in for some kisses, undressing as they lock lips, but when Levi takes his cock out Mikey can't help but get on his knees and get a taste! Mikey sucks that dick and gets Levi hard in seconds, pulling that sweet cock in and out of his mouth and then letting Levi get a mouthful of his dick next.
When they've had enough oral and have gotten each other horny as fuck, Mikey lies back on the bed and spreads his legs for Levi, ready to take that hard cock. Levi doesn't hesitate to fill Mikey up with his long shaft, fucking him bareback while Mikey moans and plays with himself.
They try another position with Mikey straddling Levi, getting pounded as they make out and Levi buries that big cock deep inside of Mikey. They switch positions one more time and Mikey's tight ass has Levi coming all over Mikey's balls, shoving that jizz up Mikey's ass as Levi gets in a few more slow thrusts then sits back to enjoy watching Mikey come!