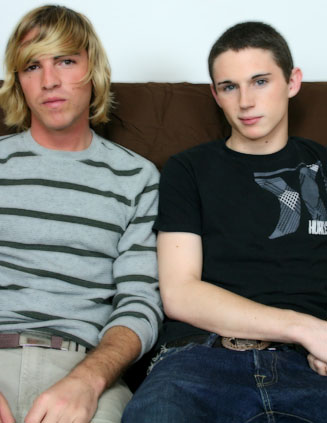 Ethan called me up out of the blue around a month after his last shoot and was interested in seeing if I could get him in on another shoot. He took a road trip and wanted to make some money to get him by until he could find another job. I had him come in for a shoot, and had another model ready to put into the scene with him. I reminded him about the last shoot that he did with us, which he did a shoot with Diesel. It was a great shoot, and so in talking about it Ethan stated that he just didn't know if he would be willing to go that far this time. I told him that he would at least need to be willing to get his dick sucked. Ethan said that he didn't have a problem with that, and I called Tyler into the room. Tyler has done a number of shoots with us now, and has got very good at them as well. I think that he has really started to open up and even enjoyed doing them. He still tells me that the only reason why he comes in is for the money.

With both boys sitting there on the couch I explained to them what was going to happen in the scene, and what each of them was comfortable with. I knew that Ethan likes to get his dick sucked, so starting with that would be the easiest way. Standing up they started to get undressed, and strip down to their underwear. Tyler I had stay in his underwear to make Ethan feel just a little more comfortable to start out. I found out that it had been a couple of days since Ethan last got a blow job or got off. From that I knew that he was going to shoot a huge load. To get things going between the boys, I had them start to play with one another. I knew that Ethan was a little nervous and Tyler was trying to get into his underwear.

Standing Ethan got his underwear down and his cock was already starting to get hard. Tyler just reached out took hold of the cock and then put it in his mouth. He started to give head for a while, and Ethan was enjoying it. At one point he even choked on the cock in the back of his throat. I could tell that Tyler wasn't very comfortable in that position, so we changed things up by having Ethan take a seat on the couch. This was a lot easier for him to get his mouth all the way down to the base. Ethan even started to press Tyler's head down for more. I stopped Ethan, and asked if he wouldn't mind sucking Tyler's dick for a minute. He said sure, and Tyler stripped off his underwear in a second. Ethan started to suck his cock and moved to the floor on his knees to get in there. Cupping his balls, Ethan played with them just like he liked his balls played with. Tyler would thrust his hips up into Ethan's mouth to try and get him to take more of it in.

Ethan even made Tyler's legs up in the air, and I got a couple good shots of Tyler's asshole. I could tell that after this I might be able to get Tyler to get fucked again. I knew that Ethan was going to need more head if he was going to get close to getting off, and so they changed positions again. Tyler gave him head for a bit, and then Ethan took over and jerked off until he was about to shoot his load. He moaned and came all over Tyler's upper chest and face. I pulled back and moved around the room in hopes that Tyler would soon be next. Sure enough it didn't take long for him jerking to have his orgasm. He came on his lower stomach and was much quieter about it. The boys were sweaty, and sticky with cum. I told them to go hop in the shower and that they did a great job in the shoot once again.