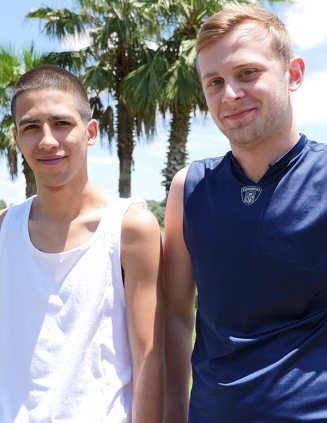 Dustin Powers is still nervous to be with a guy, so we though bringing in another newbie, Chandler Scott, would help to calms his nerves. Chandler takes the reins in this scene and shows Dustin how it's done, leaning in for some kissing to kick things off. As they lock lips, Dustin seems very hesitant, but we see a little tongue slip into Chandler's mouth as they make out, so maybe he's not as scared as we think!
When they've kissed enough to get the blood flowing, Chandler takes off Dustin's pants and sucks his sweet cock while Dustin closes his eyes and tries to enjoy a guy's lips around his dick, but the real struggle comes when Dustin has to give oral to Chandler. He gives it a couple good attempts, sliding Chandler's prick in and out of his mouth, but he's ready to just get right to the fucking and skip all the intimate foreplay!
Chandler climbs on the bed and bends over, letting Dustin fill him with his cock, which seems to come much more naturally to Dustin than kissing and cock sucking! Chandler moans as Dustin fucks him and goes balls deep into his tight ass, and when Dustin takes Chandler a few different ways, it's enough to make both these guys bust a nut…and Dustin gives Chandler a facial for being such a good bottom!