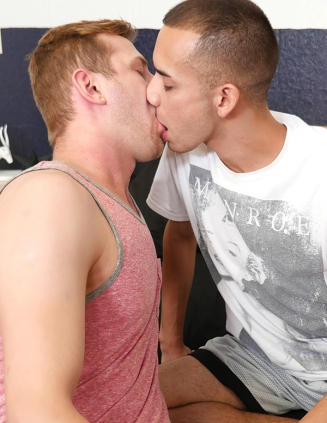 Chandler Scott and Justin Riggs are going at it today…and one of our newer models, James, gets to watch since he's still in the learning curve of fucking a guy. Let's hope Chandler and Justin get off on exhibitionism! But once they start in at each other, they don't seem to notice anyone else in the room as they kiss deeply, then Justin bends down and sucks Chandler's sweet cock as it peeks out of his boxers.
Chandler gets rid of his underwear and gives Justin full access to lick and suck his dick…but not for long before Justin is demanding oral of his own! Chandler gives it back, then gets a little more from Justin! After all that cock sucking, Chandler is craving a different taste and goes for Justin's asshole, spreading his cheeks apart and giving him a rimjob before pulling him to the end of the bed, lifting his ass in the air and fucking him hard.
Justin takes that hard dick and moves his ass in stride with Chandler, getting it in deeper and going harder than before. They try a few other positions before finally, Justin finds himself on his back, legs in the air and ass spread with Chandler's dick deep inside of him, slamming him hard until they both cum everywhere!