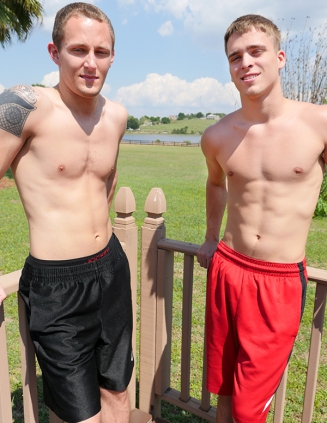 Brady Bennett is back to make some more money, and from the sounds of it, his extra cash goes mostly to his girlfriend…but no matter who spends Brady's money, we're just glad to have him and his sweet cock here today! Trevor Laster seems pretty excited about the idea of having Brady around as well, and once these guys lose their clothes, Trevor shows Brady just how glad he is to seem him by giving him some head, sucking that sweet cock as Brady sits back and enjoys.
Trevor want his dick sucked too, and Brady gets on his knees and shows Trevor what he can do with that hot mouth of his! Before these boys get into the fucking, Trevor bends Brady over and warms that ass up with a rimjob, making it slick with his spit as he preps that hole for a good fucking! Trevor slowly and gently slides his hard prick into Brady's tight entrance, letting him get used to his size before he starts pumping his cock deeper and harder.
Brady yanks his own dick as he takes Trevor's bareback cock, getting fucked in a few different positions as he rides Trevor's throbbing, fat prick! When Trevor gets Brady on his bed with his legs up and cock in hand, he enters him one last time, giving it to him raw and hard until Brady creams all over and Trevor tops it off with his own hot jizz!