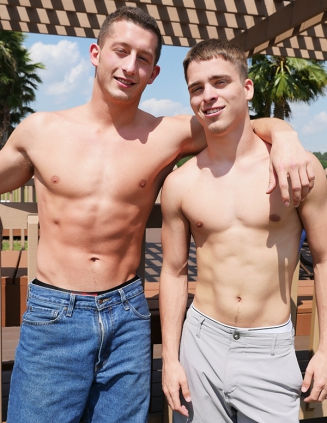 Drake Tyler finally gets to top today and fuck some ass, and the ass he gets to pound is Brady Bennett's, one of our newer models on BSB. Brady says the boys in the house have been treating him well, so we'll see if Drake treats him as well when he's pounding Brady's ass!
The boys take their shirts off and start with some deep kisses, rubbing each other's cocks as they make out until all their clothes are off and these sexy, ass-naked men are on the bed getting head! Brady's up first, sucking Drake's sweet cock, and his hot, wet mouth drives Drake crazy! So crazy that he bends Brady over and gives him rimjob, sliding his finger all the way into Brady's hole to give him a taste of what's coming.
After Brady's asshole has been warmed up, Drake lubes up his bareback prick and shoves it into Brady's tight entrance, thrusting in and out of him as Brady takes it like a man! After doggy style, Drake lets Brady sit on his dick, riding his throbbing hard cock so that it's balls deep up his little ass. Drake gets a little rough with Brady as he pulls him whatever way he wants in order to fuck him harder, and Brady submits to Drake as he gets fucked raw until he cums then gets a facial from Drake!