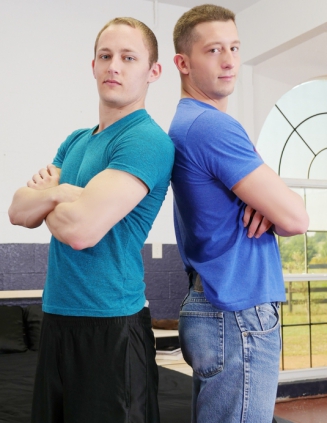 Trevor Laster is in for a treat since we've paired him up with the sexy and straight Drake Tyler, who knows how to take a cock and like it! The fun starts with some kissing, and not just on the lips, as these two studs drop their clothes and start grabbing at whatever part of each other's body they can reach.
Trevor is calling the shots, kissing his way down to Drake's dick and sucking that sweet cock until it's dripping wet, then letting Drake fill his mouth with Trevor's dick. Drake struggles to keep his gag reflex in check as he deepthroats Trevor's huge fat prick and shoves that thing all the way down his throat. Watching Drake swallow his cock is too much for Trevor to take, and he stands up and bends Drake over and enters him slowly, sliding his bareback dick right into Drake's ass as he smacks it hard.
Drake moans for more as his ass stretches around Trevor's monster cock as Trevor goes balls deep then lets Drake have some control as he rides Trevor's prick. Drake yanks his own meat while he gets fucked hard and raw by Trevor until Trevor has to pull out and release his load…right into Drake's tight ass as he slides his cum-covered cock back inside until Drake gets off!