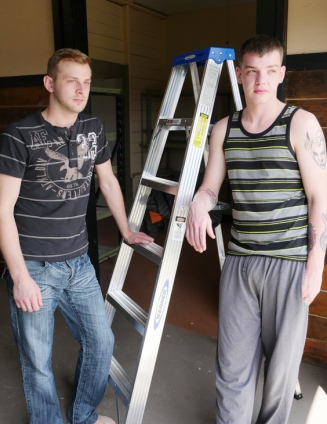 Chandler Scott is one of our newer models, and he's still a little shy and reserved…but it won't be too long before we break him in, and Ryan Fields is here to help with that! We suggest that these two guys start off with kissing, since Chandler admitted that might be a bit of a challenge for him, and he seems hesitant at first, but opens up the more Ryan persists.
Lucky for Chandler, Ryan's not afraid to take the lead, and he shows him exactly what needs to be done as they make out more before Ryan drops his pants and pushes Chandler to his knees. Chandler gets a cock down his throat for the first time, and lets Ryan slide it in and out of his mouth…this guy gives head pretty well for a first-timer!
Next, Ryan gives Chandler a demonstration to help him refine his cock-sucking skills, and then they 69, each getting a mouthful of meat while the pleasure each other. They get creative, giving head to one another in all kinds of places and positions as they get harder with each minute. Chandler gets messy, drooling all over Ryan's dick and balls, but obviously his oral skills are pretty damn good because it's not long before these two are cumming all over!