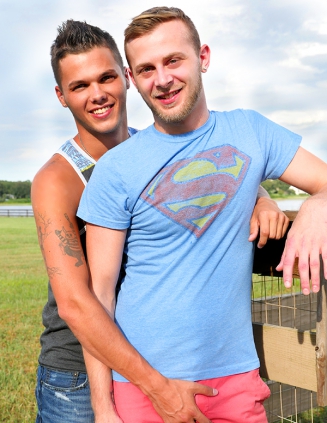 Some heavy kissing and intense making out opens up this sexy scene between Gage Owens and Chandler Scott as they get each other going with a little tongue-on-tongue action. They undress slowly with Gage making the move toward Chandler's cock first, unzipping his pants and kissing his way down to Chandler's already erect dick!
Gage pulls back Chandler's boxers to reveal that fat meat and gets to work sucking Chandler's cock and balls, then undoing his own pants he offers his package to Chandlers as they 69. When the oral has gotten them hard as fuck, Chandler's ready for some ass and Gage gets them lubed up, straddling Chandler and lowering his tight hole onto Chandler's throbbing cock, riding reverse cowboy as Chandler enjoys the view! Chandler moves them to a different position, holding Gage's legs wide open as he fucks him deep and raw, taking it slow so that Gage can feel every inch of Chandler's long cock inside of him.
Chandler's balls slap against Gage's nice ass as Gage strokes his own dick and moans with Chandler's deep thrusts until he can't hold back anymore and lets that cum fly! But Chandler isn't done with Gage's ass yet, he keeps on pumping, fucking his bottom bareback until he's ready to come, pulling out and shooting a massive load onto Gage's face!