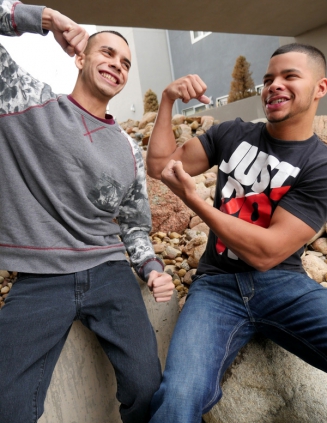 Kaden Alexander and Justin Riggs don't hesitate to obey the command to get undressed, and once they're naked, Kaden tries to bench press Justin…but when that fails, they do the next best thing: foreplay! Justin gets to suck Kaden's dick first, and when he makes that cock grow Kaden wants some ass play next and Justin goes right in, burying his face in Kaden's ass as he licks that hole and slaps those supple cheeks!
Justin gets his turn next when Kaden picks up him and balances him on his shoulders while he gives him some amazing oral, then throws Justin on the bed so that he can give him head even better, making Justin squirm as Kaden holds him down. These kinky boys get in the 69 position next, with Kaden still getting a mouthful of Justin's meat and Justin getting a mouthful of ass until Kaden can't hold back anymore and sticks Justin with his big dick!
Justin spreads his legs wide open, letting Kaden get deep inside of him, pounding him, fucking him raw, harder and faster while Kaden dominates his sexy little bottom until he cums right between his ass cheeks and then fucks him with that jizz!