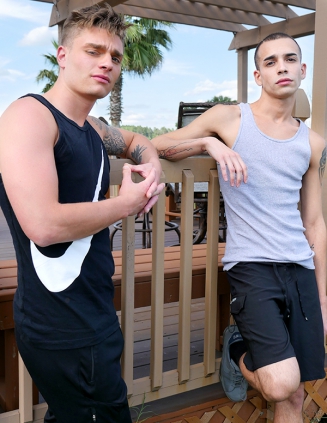 Kayden Winters is back after his oral scene and ready to tackle an oral only scene with Justin Riggs! Kayden seems a little unsure about it, but Justin is eager and wants to eat this newbie's ass! But before they think about cock sucking and ass licking, they gotta get warmed up first! They heat things up with some sexy kisses, and Justin licks and kisses all over Kayden's toned chest, sucking his nipples as they slowly lose their clothes.
Before they move things to the bed they drop the last bit of clothing and Justin goes down on Kayden, showing our newbie exactly how it's done! But Justin got more than he bargained for with Kayden as he pushes Justin down onto the bed and fucks his face while Justin sticks his finger up Kayden's ass. Lucky for Justin, Kayden lets him eat his ass and definitely doesn't seem to mind the feeling at all!
When these two studs swap places and it's Kayden's turn to give head, he does a very impressive job, giving Justin oral and sucking that dick like it's the best thing he's ever put in his mouth! They 69 and Justin takes the opportunity to give Kayden another rimjob while he gives Justin head, and these two finish with some kisses and more cock sucking until they both drain their big dicks on each other!