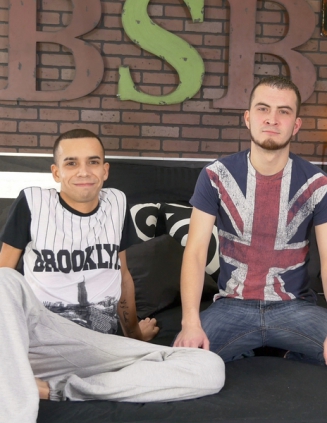 David Hardy and Justin Riggs are ready to dominate this scene together, and they strip down and climb onto the bed and David gets his sweet cock sucked first as Justin leans down and takes that meat in his mouth. He works that dick with his lips and tongue until he gets it hard, and then he reclines back on the bed and lets David get a mouthful of his prick, running his lips up and down his shaft and sucking on his balls until he slowly works his way back towards Justin's asshole.
He gives him a tease of a rimjob, just enough to get him excited and then he goes back to tackle Justin's monster of a cock! But David's had enough of the oral, he wants to fuck and he lubes up Justin's ass and tries to slide his dick in but Justin is so tight that it takes a couple tries before David is finally ready to breach that entrance and start fucking!
Justin is having some trouble getting past the pain of having his right little ass stretched, so David lets him ride his cock, giving him more control. But once Justin's ass is used to having David's huge dick buried inside of it, he starts enjoying himself, fucking a little harder in some seriously sexy positions until Justin cums on himself and David shoots his load into Justin's mouth…and Justin surprises David with a taste of his own hot jizz!