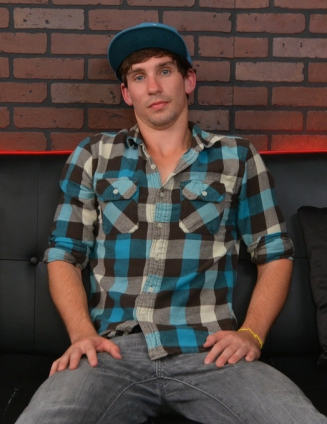 Abram Hoffer is new to Broke Straight Boys and we're starting him off with a solo scene, but this newbie seems pretty at-ease in front of the camera and has no reservations about closing his eyes and touching himself! He starts by running his big hands across his body, trailing them across his chest and stomach before moving down to massage his bulge, rubbing it gently through his pants before pulling it out.
Once that dick is out, we get to appreciate just how big it is as he strokes it, getting it up to it's full size as he takes his pants off and works that impressive prick with both hands! But he wants a little something more than just his hands, and he reaches for a fleshjack to help him out. He lubes it up and fucks it, making that toy work for him as he rams it hard and fast on his cock and by the look on his face, we can only guess that it feels damn good!
After he's gotten his fill of that, he goes back to some manual stimulation, getting comfortable as he masturbates and finally gets to shoot that huge load that he's been holding in!
Like the male sex toy used in this video? Grab your own FleshJack HERE