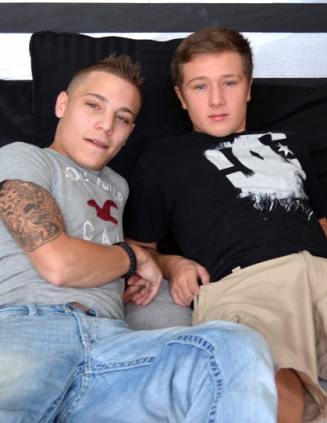 Tyler White and Brody Lasko don't know what's coming with this scene, but both of these boys are ready for whatever comes their way! They get warmed up with some kisses, making out as they strip and rub each other's cocks through their boxers, and then Brody makes the first move toward Tyler's dick.
He goes down on him, using his newly learned oral skills to get Tyler good and hard before he gets to be on the receiving end, with the very experienced Tyler sucking on his wang. But once Tyler's had enough cock-sucking, he stands up and shoves his bareback prick into Brody's tight ass, going slow at first but then going harder and deeper once Brody's ass is stretched around his throbbing dick.
Brody repositions himself, getting on all fours and arching his back in order to take Tyler's cock, and Tyler tops him doggy style, ramming his cock into Brody as he moans. But then these boys flip, and Brody tops Tyler raw, fucking him hard from behind as he reaches around and rubs Tyler's dick while he pounds him. Tyler gets on his back and Brody gets between his legs and rams him until he fucks the cum right out of Tyler and then strokes one out himself!