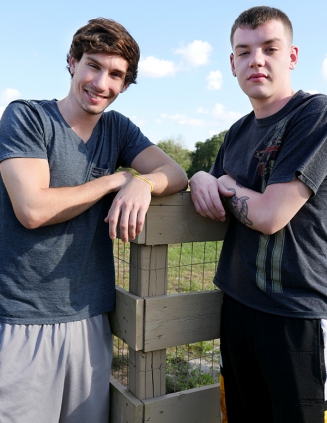 Abram Hoffer and Ryan Fields don't waste any time getting started in this sexy scene! In fact, Abram places a couple kisses on Ryan's chest before Ryan's naked and Abram's mouth is around his cock, sucking on that juicy meat as Ryan watches him do his work. Abram's spit drips down Ryan's balls, but he doesn't mind getting a little messy if it means getting his cock sucked until he's dripping and hard, then it's his turn to give it back to Abram.
Ryan sits up on the bed and lets Abram fuck his face, getting his dick so far down Ryan's throat it makes his eyes water, but he takes it in stride before standing up and lubing his ass up for Abram's cock then sitting down on it. Abram gives Ryan's ass a little smack as he slams into him and lets Ryan ride his dick while Ryan's prick bounces all over as he gets fucked.
Next it's Ryan on his back with his legs spread and Abram's cock between his cheeks, Abram has no mercy as he slams in and out of Ryan, bareback and hard, choking him as they fuck. Ryan flips over on all fours and Abram pounds him doggy style, making Ryan's ass bounce as he goes balls deep in that tight ass until he pulls out and cums on Ryan's back then gets him off next!