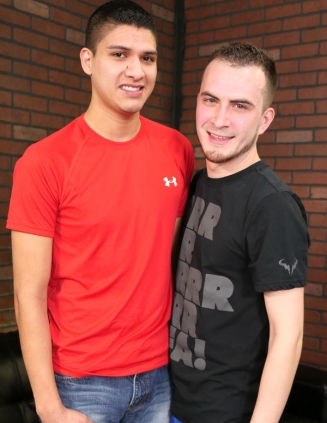 We flew David Hardy out for a special scene with our newbie Ricky Evans, and we just know it's going to sexy as fuck! They make out, exchanging some kisses to get them warmed up before Ricky undresses David and kneels between his legs, taking his cock in his mouth and sucking until it's hard.
Then David shows Ricky a thing or two about giving oral as he gets Ricky's pants down, sucks him off then throws him onto the bed and eats that juicy ass of his, licking Ricky's tight hole before climbing on top of him in bed. David kisses him then demands some more cock-sucking and Ricky obeys, shoving David's huge dick down his throat, then 69ing so that David can get to that ass and rim it some more.
David gives Ricky fair warning about what's to come, but Ricky isn't intimidated by David's threats and he sits right on that fat cock, bouncing up and down until David wants it harder, then he flips Ricky over and takes that ass, rough and hard as he wraps his hands around Ricky's throat and fucks him until he cums. He pounds him a little longer, just until he's ready to shoot his load, which he does…right into Ricky's open mouth!