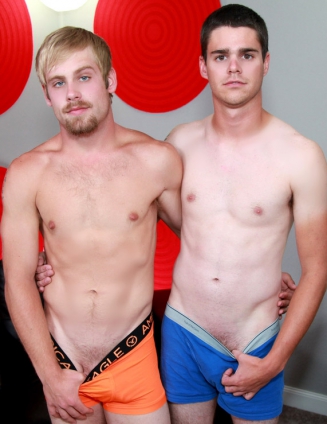 Skyler and Tate have been keeping busy, but they both found themselves strapped for cash so they're back in our studio and ready to fuck! You can tell that these two like to take their time and enjoy themselves, making out for awhile before into the oral, and Tate's the lucky first there! He leans back as Skyler works his magic, sucking on that dick and deepthroating it as he moves his mouth nice and slow up and down Tate's curved cock.
But Tate is craving some meat, too, and takes Skyler's juicy dick in his mouth, shoving it all the way down his throat and licking his balls as Skyler throws his head back in pleasure. Tate's cock-sucking skills have got Skyler even more horny than before, and he gets Tate on the bed and sticks his prick right in, fucking Tate hard and deep as Tate moans for more.
Skyler fucks him doggy style, on his side, from every angle he can, loving the feeling of Tate's tight ass wrapped around his hard dick. But once he's got Tate on his back, legs spread open wide and dick buried deep in his ass, Tate shoots his load followed closely by Skyler!