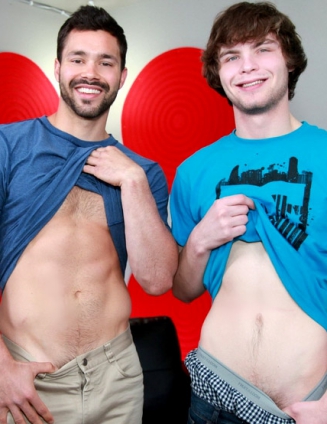 Sergio Valen and Ronan Kennedy aren't very excited to get fucked today as they're both are a little nervous about how it's going to feel, but they know there's no use delaying what's coming, so they strip down and kiss. Sergio's a little hard before they even get started, and Ronan giving him head just makes him hard so much faster.
Ronan sucks on that cock, massaging Sergio's meat with his hands and mouth until he can't get any harder. Sergio tackles Ronan's monster of a dick next, trying his hardest to fit as much of that big prick in his mouth as he can and working the rest with his hand until Ronan's at his full potential and ready to fuck! Sergio gets on his back and opens his ass up for Ronan, but even with tons of lube and Ronan going slow, Sergio struggles to take that dick.
He tries a different position, but it seems to be just as painful and Ronan is only able to get half of his giant cock inside that super tight ass. After a few good pumps, Ronan gives up and lets Sergio fuck him, tensing up as his ass gets stretched around Sergio's prick, but he takes that dick until they both bust a nut!