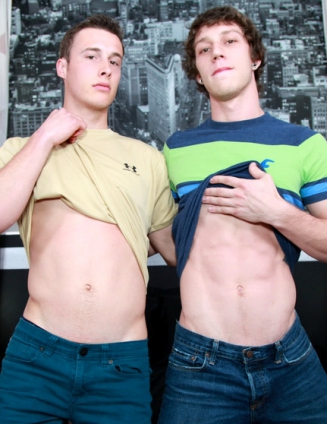 Dylan and Paul are paired up today and that was intentional…we've recruited "Headmaster Paul" to teach newbie Dylan how to go down on another dude. He doesn't seem too put-off by the idea of sucking on a dick, but he's still a little nervous.
But despite the nerves these two jump right in and make out, swapping spit as they get undressed and move things to the bed where Paul gives Dylan oral first, teaching him a thing or two about how it's done. Paul works that cock with his hands and mouth and Dylan looks like he's never had better head! Paul slurps and sucks and drools on that dick until he makes Dylan explode all over, and then it's time for Dylan to give it a try.
He works his way south and takes Paul's thick prick in his mouth, working the sensitive tip and rubbing Paul's throbbing shaft with his hand as he gets the hang of how to blow a dude. He goes nice and slow, trying to get that cock as deep down his throat as he can while he jerks him fast, then he sucks on his balls while Paul gets himself off and Dylan cleans up some of that hot cum with his mouth! Looks like this newbie was even too much for Headmaster Paul to handle!