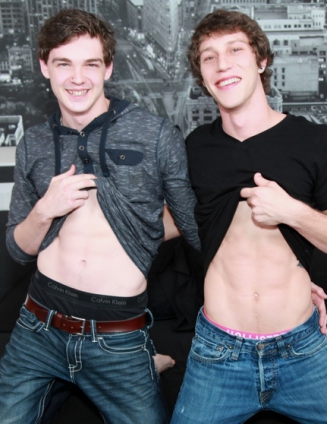 Dimitri is a little worried about how his first time fucking a guy in the ass is going to be…but he likes to have sex, and he's keeping an open mind, so we think he'll do just fine. After he talks out his worries a bit, Paul and Dimitri strip right down and make out a little before Paul kneels on the bed and gets Dimitri's mouth on his cock.
Dimitri's cock-sucking skills have improved and Paul is loving it as Dimitri spits on his dick and works it with his mouth. But in order for Dimitri to get his prick hard and ready for fuckin', he's going to need to get some head, too. Of course, Paul knows this little fact and he goes down on Dimitri, licking his balls and sucking that meat until it's rock-hard and ready for action.
Then comes the fun part…Paul gets on all fours and sticks his ass in the air, ready and waiting for Dimitri to top him. Dimitri doesn't hesitate to stick his dick right in and fuck Paul's ass, raw and hard as Paul moans for more. Dimitri slams Paul from every angle and position, getting his cock in good and deep, hitting all the right spots in Paul's tight ass until both of these studs shoot their huge loads all over each other!