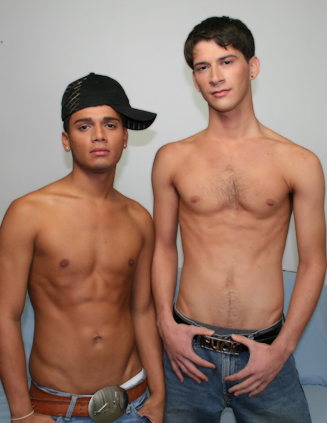 Originally, I had setup the scene to be a threesome, but one of the models Nickolas canceled on me at the last minute. He freaked out over what the shoot was going to entail, and didn't know if he could handle it. So, the shoot got a little smaller and became a duo with Ajay and Anthony. Ajay asked what I had in store for them and that is when I told them that I wanted to see the two of them fuck. Anthony was really shocked and I could tell that neither one knew what to say. I told them to wait until I told them about how much they would be making. I told them that I would pay them $2000 each for the shoot, but they wanted more. I wanted to see fucking and rimming. When we raised the pay, then started talking about it. Both needed the money really bad, so they agreed to do it. Once, I got that ok, I told them about the female requests that we got on the site, about having the straight guys kiss. Ajay was a little puzzled that the girls wanted to see that, but realized that straight guys like to see two girls kiss.

Getting undressed, Anthony was naked first, and then Ajay was right behind him. Ajay's cock was shaved and he appeared to me to be more metro-sexual. Taking a seat on the couch, I told them to start kissing, which they did for a couple of seconds. Then, leaning over Anthony, Ajay took his cock in his mouth and started to suck. I was impressed that Anthony was getting really hard from the oral, but he obviously was enjoying it. Ajay was doing well at the blow job and wasn't being a pansy about it. After a few minutes I had them switch and it was Anthony's turn to take a cock in the mouth. Ajay was already hard by the time that his cock went in Anthony's warm, wet mouth. Playing with Anthony's hair, I watched Ajay's face show that he was enjoying it.

Stopping them, I asked Ajay if he was up for a little rimming and he said that he guessed. Anthony got into the doggie style position and Ajay's tongue got in between those white buns. The tongue tickled the asshole and tried to go inside a couple of times. Anthony said that he was enjoying it, but that he didn't know of any girls that would do that. I told him that some might if they were open and knew that he would enjoy it. Turning over Anthony got on his back with his legs in the air, and Ajay kept going for a few more minutes sucking that ass. I knew that neither one was going to ask if they could just start to fuck, so I stopped them and just asked if they were ready. Anthony just wanted to get it over with, so putting on a condom Ajay applied some lube to his dick and the asshole. For the first time of fucking a guy, Ajay was very careful that he didn't want to hurt Anthony. Every time that his dick when a little further he would ask if Anthony was ok.

The two of them fucked for a few minutes in this position, and it was very hot watching both of them. But, they were doing so well that I wanted them to change and try doggie style. I told Ajay that I wanted him to pound Anthony a lot harder, and that he wouldn't break if it went faster. They tried, but didn't seem to go just as fast as I would have liked, but I didn't want to make them more nervous. After a while it was Ajay's turn to get fucked. Anthony put on a condom and tried to stick his monster of a cock inside Ajay's tight little hole, but Ajay just wasn't going to relax. After a few moments, then we just went back to Anthony getting fucked so that we didn't lose our momentum in the shoot.

Ajay was the first one to blow his load in the shoot, and was glad to see that he was able to get off fucking a guy. That to me was a very good sign. He had a nice size load, and it stood out on his skin because of his darker color. Anthony just moved a little over to the side and jerked off for a few minutes. When his load came on his stomach it was very thick in consistency and a dark white color. The shoot was a lot of fun to do, and it was great that both guys did everything that I asked and really didn't chicken out. I hope to seem them again for more work.