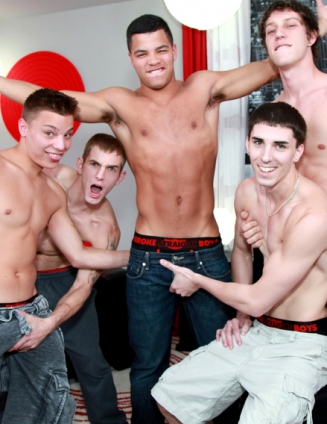 This is definitely a big milestone...1000 scenes of straight guys fucking and sucking for money! And what better way to celebrate such an accomplishment than with a hardcore group fuckfest, and words can hardly do this smokin' hot orgy scene justice!
These boys are hungry for cock and cut right to the chase, stripping out of their clothes and getting started swallowing dick, slapping ass, and swapping spit as they all take their turn with each other. We've got two guys to one cock, two cocks for one mouth, pairs, threesomes, and at one point these guys form a cock-sucking chain with all five of these studs getting oral action at once!
But these hot boys haven't even gotten to the best part yet...the raw, bareback ass-pounding! These guys jump from tight ass to tight ass, pumping the bottoms full of their hard pricks while those same bottoms slobber all over some other dude's cock or obediently give a rimjob whenever a an ass gets shoved in their face. There are so many hot things going on...moans of pleasure, cries of pain as a new guy gets his ass stretched around a big cock, dick-sucking and fucking, even some cum-swapping! And of course, it wouldn't be complete without a cumslut--Damien Kyle getting covered in the white-hot jizz of four other dudes and then having those dudes lick it off of him!