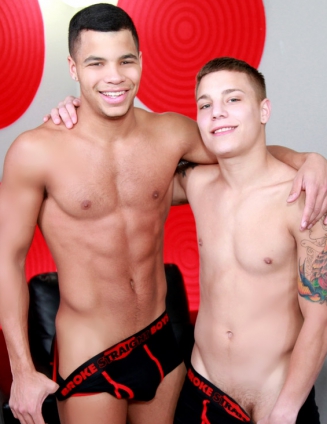 Kaden is full of energy today and he's dubbed Tyler as his protégé, ready to teach him all the ins and outs of the porn industry. Tyler seems fine with being under Kaden…literally and figuratively! Once these two boys start playing, Kaden keeps that energy going, sucking on Tyler's dick with gusto and letting him face fuck him hard while he slobbers all over his cock!
Tyler's a little more tame when get gives Kaden some oral action, but it doesn't mean it's not as good, and Kaden isn't afraid to give him some pointers as he works that cock with his hot mouth! But Kaden wants more and he gets Tyler on the bed, bending him over and holding him down as he fucks him bareback, hard and fast, slapping his ass as Tyler struggles to take that big dick!
As much as Tyler's moaning in pain, Kaden doesn't go easy on him and he makes Tyler take that thick cock, going balls deep and slamming into him hard. Kaden fucks him sideways, getting a little rough but trying to keep Tyler's mind off the pain by sucking in his fingers and running his hands along his neck. These two keep up the pace right until the end, when they finish with impressive cumshots and a surprise facial!