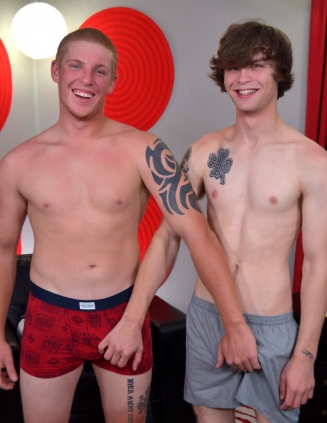 Conner Chesney is back and looking to make some cash to start up a business, and Ronan Kennedy just wants booze and girls. No matter how they're going to use the cash, these boys have to earn it first! They strip down and rub each other's dicks, getting them good and hard before starting in with the cock-sucking fun, and Conner goes down on Ronan, tackling that huge dick with his mouth.
He chokes on it a few times and tries to deepthroat it, but that prick is just too massive for his mouth. Ronan gives back and sucks Conner's cock until they're both ready to move on to the main event, and Ronan bends over and takes it up the ass. Conner goes slow at first, letting Ronan's ass stretch around his hard dick before he changes positions and shoves his meat way up Ronan's tight little ass, pulling his hair as he pounds the fuck out of him.
Next comes the flip, and it's Ronan's turn to destroy Conner's ass with his mammoth cock. Conner sits on that prick and rides it hard, taking Ronan's whole dick in his ass until they both cum all over. But don't worry…you get to watch them clean themselves up as they shower together!